Gold Price Falls After Comex Betting Also Hits 14-Month High, 'Safe Haven Appeal Lost' on Trump-Mexico Deal
Monday, 6/10/2019 14:18
GOLD PRICES fell from a 14-month Dollar peak on Monday as global stock markets climbed following the weekend's news of a US-Mexico trade deal, writes Atsuko Whitehouse at BullionVault.
China's gold reserves grew for a 6th straight month in May, new data showed.
Separate figures said GDP in the UK, the world's No.5 economy, shrank in April at its
worst monthly pace
since the 2016 referendum on European Union membership as business stockpiling suddenly stopped after the March deadline for leaving the EU passed without Brexit.
London's FTSE100 index rose to 5-week highs however, and gold prices fell 1.1% to $1326, down from the peak of $1348 per ounce hit after Friday's weak US jobs report.
"Indefinitely suspended"
tweeted Donald Trump
late Friday of the sudden 5% import tariffs he imposed last week on all Mexican goods, with Mexico promising to take what the US President called "strong measures" to halt illegal migration at its northern border.
"Talks between the US and Mexico seem to have smoothened out already," Reuters quotes Ronald Leung, chief dealer at Lee Cheong Gold Dealers in Hong Kong, "[so] the gold market seems to have lost its safe-haven appeal a little bit."
While Asian dealers reported weak sales last week, New York's major gold-backed ETFs saw small outflows on Friday, with the giant SPDR product (NYSEArca: GLD) shrinking by 0.2%.
Over in gold derivatives, in contrast, hedge funds and other leveraged speculators in Comex gold futures and options increased their bullish betting on gold for a 3rd week running as a group.
Ahead of Trump's sudden Mexico deal, and net of the Managed Money category's bearish bets, bullish positioning jumped 264% from the prior week, reaching its highest since April last year – as did the gold price on Friday.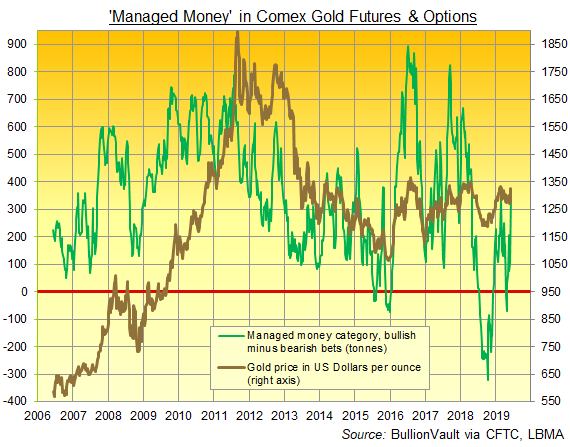 Gold prices may touch $1400 an ounce this year as investors hedge risk reckons Rhona O'Connell, head of market analysis at US brokerage INTL FCStone, speaking ahead of the weekend's Asia Pacific Precious Metals Conference in Singapore.
"There's still a degree of geopolitical risk, currencies are looking volatile, and the fact that the market's looking at a recession [means] the equity markets are obviously under threat," she told Bloomberg.
Finance ministers and central bankers from the world's 20 top economies
pledged to avoid "intensifying"
global trade and geopolitical tensions, according to Sunday's joint communique from the G20 meeting in Fukuoka, Japan.
But "If China does not want to move forward," said US Treasury Secretary Steven Mnuchin ahead of this month's next G20 summit in Osaka, "then President
Trump is perfectly happy
to move forward with tariffs to rebalance the relationship."
Official Chinese trade data for May released on Monday showed the country's
exports beating forecasts
but imports fell well short of analyst forecasts.
Beijing's national gold reserves grew by 15.6 tonnes in May to 1,916 tonnes, the People's Bank said overnight.
China's total foreign reserves also rose, swelling to $3.01 trillion.