Gold Prices Slip as US GDP Says the Fed 'Has Overdone' Rate Hikes, 'Something's Wrong'
Monday, 4/29/2019 12:36
GOLD PRICES slipped Monday morning, losing 0.4% from the 1-week highs bullion hit after Friday's strong US GDP data, as traders looked to this week's Federal Reserve meeting on Dollar interest rates, writes Atsuko Whitehouse at BullionVault.
Gold prices today dropped to $1282 per ounce after hitting their highest since April 16 on Friday, notching up the biggest 1-day gain in seven weeks when the US reported 3.2% annual economic growth for Q1,
driven by a sharp drop in the pace of inflation
.
Despite US equity indexes rising on that news, with the S&P 500 and Nasdaq Composite indices closing last week at new record highs, global stock markets were soft Monday morning.
Japan's major markets were shut Monday for the start of Golden Week. This week brings a raft of key economic data from Europe, plus the Fed decision on Wednesday.
Consensus among economists says the FOMC will hold short-term interest rates steady below the current ceiling of 2.50%, but according to betting in the futures market, 64% of traders now predict that the Fed will cut interest rates by at least 25 basis points before the end of this year.
Just 36% believe US interest rates will stay where they are after Friday's 'strong' GDP number, with no one forecasting a hike according to the
CME's FedWatch tool
.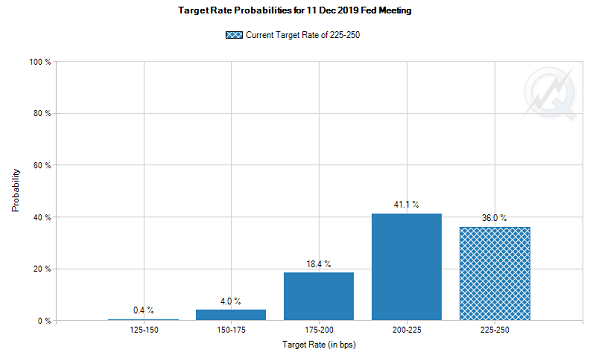 "The reality is that once inflation starts to recede, even though the economy's stronger, something's wrong," says Diane Swonk, chief economist at Grant Thornton, calling the US data "a lousy 3%" that masks warning signs of a slowdown.
"I do see some parallels between the 1995-96 period and what we're currently in,'' reckons David Stockton, then a Fed economist and now with the Peterson Institute for International Economics.
After repeatedly raising rates as the Fed now has since 2015, "There's always some concern that maybe you've overdone it."
Gold prices for European investors meantime fell 0.6% to €1148 Euro per ounce Monday morning, down hard from Friday's 2-week high, after Spain's socialist prime minister Pedro Sanchez won enough seats
to form a coalition
as widely expected, while gains for the nationalist Vox Party
split the right-wing vote
.
The
UK gold price in Pounds per ounce
also fell 0.6%, down to £990 as Bank of England governor Mark Carney promised in a speech to reinvent the central bank to make it fit for the "new economy" of the "Fourth Industrial Revolution" during a speech at the Innovate Finance Global Summit.
Latest data show that hedge funds and other leveraged speculators in Comex gold futures and options cut their bullish betting as a group further in the week-ending 23rd April, and increased their bearish betting.
Overall, that kept the position of Managed Money traders net negative for the 2nd week running.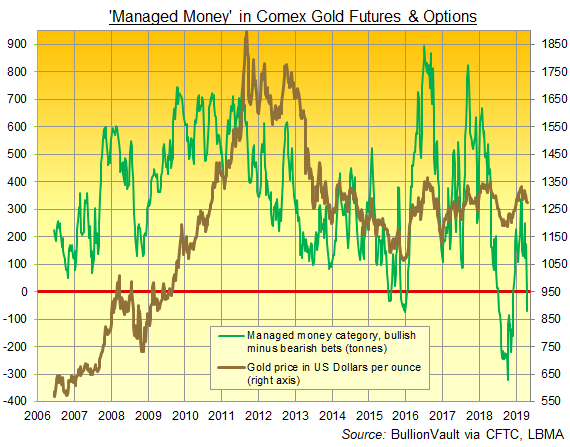 Hedge funds and other speculators also raised their bearish betting against silver last week, keeping it net negative for the 4th week running with the most negative stance – net of the Managed Money category's bullish bets – since 4th December
according to data
published by US regulator the Commodities Futures Trading Commission (CFTC).
Silver prices dropped 0.7% to $14.99 per ounce Monday morning after hitting a 1-week high last Friday, while platinum was down 0.5% to $896 per ounce.
Oil prices also fell Monday, extending Friday's slump that ended weeks of rallying, after President Donald Trump demanded that producer club Opec raise output to soften the impact of US sanctions against Iran and Russia.
US Trade Representative Robert Lighthizer and Treasury Secretary Steven Mnuchin travel to Beijing this week to continue trade talks with their Chinese counterparts, aiming to finalize a deal – and avoid the heavy tit-for-tat tariffs applied in 2018 – early in May.