Gold Price Tries $1650 for 7th Time in 9 Sessions as Covid Panic in Bonds 'Bullies the Fed'
Thursday, 3/05/2020 13:45
GOLD PRICES rose in London trade Thursday, gaining as Asian stock markets followed Wall Street higher from yesterday but European equities fell steeply as novel coronavirus continued to spread worldwide.
South Africa reported its first case of Covid-19, a man back from Italy last Sunday, while California reported its first death from the virus and declared a state of emergency.
With No.3 Eurozone economy Italy now closing schools and colleges for at least 10 days, Australia extended its ban on inbound travel from global coronavirus 'hotspots' and the International Monetary Fund said it is making $50 billion available to help poorer countries deal with the crisis.
Crude oil meantime failed to rally despite an emergency output cut of 1.5 million barrels per day by members of the Opec cartel of producer nations – "in reality,
a mere proposal
to be further discussed tomorrow with Russia," says Bloomberg correspondent Javier Blas.
Gold prices today rose through $1650 per ounce for the 7th time in 9 sessions, holding 2.3% below last week's new 7-year high as the Dollar slipped on the FX market.
Treasury bond prices surged again however, driving the yield offered to new buyers of 10-year US debt down to 0.94%, another all-time record low, as institutional investors sought refuge in 'safe haven' government promises.
"Bond market
basically bullied [the Federal Reserve]
to do an emergency cut," says one former Nomura strategist of Tuesday's shock half-point cut to short-term US interest rates, "[and it] expects more ahead.
"If they don't [cut again] the stock market will take the baton and force them to ease further and do a big QE."
With 10-year US Treasury rates down "through 1% and collapsing," agrees Canadian bullion bank Scotia's strategist Nicky Shiels in a note, "markets are pricing in additional cuts" at next week's scheduled Fed meeting "as the global/ex-China spread of the virus triggers more economic sudden stops."
Wednesday-to-Wednesday, gold prices have moved in the opposite direction to 10-year US Treasury bond yields 79% of the time since January 2019.
That's up from 54% of the time across the previous 2 decades.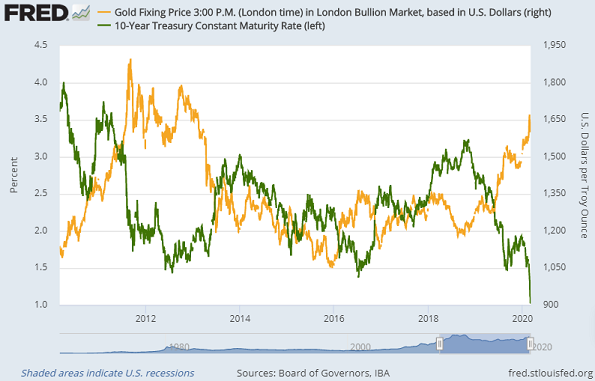 Wednesday saw "consolidation" in gold after Tuesday's rise, says Swiss refining and finance group MKS Pamp in a trading note, "quiet through New York [hours] as a risk-on tone returned to the markets."
Among the largest US exchange-traded products backed by bullion, the GLD gold ETF didn't change in size Wednesday, needing 5 tonnes less than last week's 3.5-year record of 940 tonnes in backing.
Gold ETF
competitor the iShares IAU in contrast expanded for the 33rd day out of 44 sessions in 2020 so far, needing a fresh all-time record of 383 tonnes in backing.
iShares' SLV silver product meantime held unchanged in size after 3 sessions of investor outflows, needing 237 tonnes less in backing than last Thursday's 3-month high of 11,492 tonnes.
"The downside risk for gold," says Shiels at Scotiabank, "is any extreme equity market [plunge] will induce
margin-related paper deleveraging
in all havens, excluding the US Dollar" as happened last Friday.
Shanghai gold prices today edged $4.25 above comparable London quotes per ounce, the strongest incentive for new imports to China – gold's No.1 consumer market – in 8 trading days.
Customs officials in gold's No.2 consumer India are meantime concerned, says New Indian Express, that with Covid-19 making
frisking and close inspection potentially dangerous
, smugglers will attempt to boost the already strong levels of illegal gold inflows.