Gold Prices Steady from 3% Covid-19 Swing, Possible Vaccine '12-18 Months Away'
Tuesday, 2/25/2020 14:48
GOLD PRICES steadied against all major currencies in London trade Tuesday, holding above last weekend's level in everything but the Japanese Yen after yesterday's wild 3% swing up to and down from multi-year and fresh all-time highs on the widening outbreak of novel coronavirus worldwide.
With Italian authorities
widening the quarantine
near to industrial and finance center Milan, the UK's chief medical officer today said anyone returning from northern Italy
"must self-isolate"
when they get home, but the Foreign Office said it's not advising against any travel on the basis of coronavirus apart from the Wuhan province of China.
The United Arab Emirates meantime banned all air traffic with Iran, where the deputy health minister – who went on state TV on Monday to say the Islamic Republic is getting the outbreak of coronavirus under control – today
announced that he himself has the virus
.
MSCI's All Countries World Index slipped another 0.3% after plunging 3.0% in US Dollar terms on Monday as European equities suffered their worst 1-day plunge since the UK's Brexit referendum shock of June 2016.
"Junk bonds [also]
got hit hard yesterday
," notes Lisa Abramowicz at Bloomberg of higher-risk, higher-yield corporate debt, "with spreads jumping to the widest of 2020. Spreads on energy high-yield bonds soared to the highest since May 2016."
Germany's Dax today erased the last of its gains for 2020 so far, losing 6.5% from the new record high set only on Monday last week.
Base metals also slipped again, taking copper prices nearly 12% lower from when China's coronavirus outbreak began to make headlines in mid-January, with aluminum down over 7% and iron ore losing 8%.
Gold priced in both the Euro and the British Pound today held more than 3% below Monday's spike to new all-time records at €1560 and £1308 per ounce respectively.
Gold prices in US Dollar terms
meanwhile held $5 higher from Friday's finish, trading more than $40 below yesterday's 7-year top at $1689 as Treasury bond yields traded flat at the multi-year and new record lows recorded in Monday's financial market meltdown.
Monday's surge in gold prices saw trading volumes in Comex gold derivatives jump to the highest level since early
January's spike to $1611
on Tehran's rocket attack against US forces in Iraq for the assassination by Washington of senior Iranian commander Qasem Soleimani.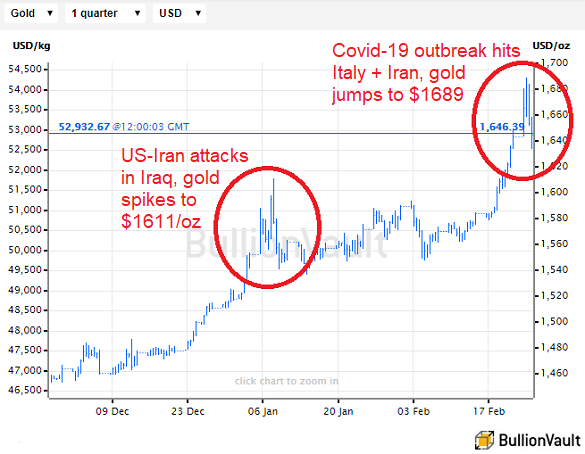 Monday also saw
gold-backed ETF products
worldwide expand for a 24th session on the run, with trading volumes in top US trusts the GLD and IAU leaping 3-fold from their recent average levels.
"We see substantially more upside from here," says a note from US investment bank (and London bullion market-maker) Goldman Sachs, pointing "towards $1850 depending on the magnitude of global monetary policy response" to the coronavirus slowdown.
"We see such a rally being driven by the continued search for yield, increased demand for portfolio diversification, and higher political uncertainty."
"AngloGold CEO Won't Rule Out $2000 an Ounce Gold Price," says a headline at Bloomberg meantime, quoting Kelvin Dushinsky, head of the 3rd largest gold miner, and appointed Monday as the new
chair of the 25-member World Gold Council
.
US finance giant Citigroup's commodities analyst Aakash Doshi meantime "expects gold to top $2000 an ounce over the next year or two," says Finance Yahoo, "marking a roughly 22% rise from its current price."
Singapore imposed a ban on travellers arriving from affected regions of South Korea as well as the key infection zones in China.
"If all goes well, by late summer testing could begin to see if the vaccine actually prevents disease," says a report in The Atlantic, "[but] overall, if all pieces fell into place...it would be
12 to 18 months before an initial product
could be deemed safe and effective."
"Within the coming year, some 40 to 70% of people around the world will be infected with the virus that causes Covid-19," predicts Harvard professor of epidemiology Marc Lipsitch, "but this does not mean that all will have severe illnesses.
"It's likely that many will have mild disease, or may be asymptomatic."
Monday's spike and pullback in precious metals saw the strongest day on BullionVault since Donald Trump's 2016 election victory for traffic, new accounts and trading volumes, with a total £10.5m ($13.6m) of gold, silver and platinum changing hands.