Gold Prices Slip as Western Funds 'Chase It Higher', Indian Jewelry Stores 'Pin-Drop Quiet'
Thursday, 2/21/2019 13:53
GOLD PRICES fell as London opened for business on Thursday, dropping $10 per ounce from yesterday's new 10-month Dollar high even as global stock markets struggled and the US currency fell further on the FX market.
Silver doubled the 1.1% drop in gold prices from this week's peak, troughing at $15.85 as gold fell to $1332 before steadying $4 higher as the start of New York trade drew near.
Platinum prices
held firmer, retaining a 2.3% rise for the week so far at $826 per ounce, more than $45 above early February's 2-month low.
Shanghai gold prices closed overnight some 0.8% below yesterday's 31-month highs, retreating as the Yuan extended its rally versus the Dollar following "dovish" comments on US monetary policy from the Federal Reserve.
Minutes from last month's Fed meeting
showed the committee agreeing unanimously to change the central bank's description of US economic growth from "strong" to "solid", with all members also agreeing to pause the so-called "run off" of the Fed's balance sheet – selling bonds bought over the last decade with quantitative easing – sooner than previously suggested in 2019.
Thanks to the rising Yuan, wholesale gold prices in China held a firm $10.50 per ounce premium on Thursday above London quotes, suggesting good demand in the metal's No.1 miner, private consumer and importing nation.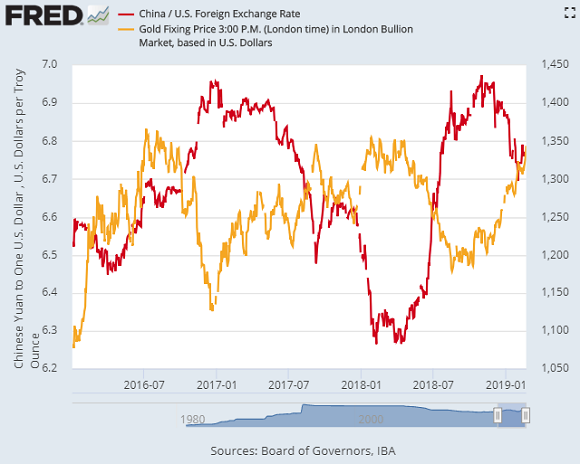 "Gold now has a life of its own," says George Gero at Canadian advisors RBC Wealth Management.
"Bulls have the upper hand."
"While the [precious metals] complex has benefited from expectations of a very dovish Fed," says a note from Canadian brokerage T.D.Securities, "we think that [commodity trade advisors] have played a notable role in helping gold and platinum prices rally."
"You get a reverse snowball effect in gold rallies," agrees London broker David Govett at Marex Spectron. "The higher it goes, the more it attracts fund money."
Over in key consumer market India in contrast, "There has been
pin-drop silence in jewelry stores
, with hardly any customer footfall," Rediff quotes one Zaveri Bazaar retailer in Mumbai.
"One or two customers come only for exchange of gold ornaments," he goes on, because the Rupee price for consumer purchases is now setting new all-time record highs.
UK gold prices in Pounds per ounce sank 1.3% meantime Thursday morning, falling to the cheapest in a week at £1020 as the FTSE share index also fell on a steep rally in Sterling following lower than expected government borrowing data.
This seems to have passed many people by but UK govt now borrowing considerably LESS than it was BEFORE the financial crisis. In CASH TERMS. Sorry about the caps but these distinctions matter. Debt still high but crisis-era deficit has been more than eliminated. Chart: @OBR_UK pic.twitter.com/vndWmUl4yG

— Ed Conway (@EdConwaySky) February 21, 2019
Euro gold prices today halved this week's 1.3% rise to April 2017 levels, falling back to €1175 as the single currency held near 2-week highs against the Dollar.