'Short-Lived Spike' in Gold Prices Sets New 7-Year and Record Highs
Tuesday, 1/28/2020 14:17
GOLD PRICES eased back Tuesday, trading almost $10 per ounce below yesterday's new 7-year US Dollar highs at London's benchmarking, as confirmed cases of the deadly coronavirus spread, Hong Kong closed its borders with mainland China, but European equities steadied as bond yields also paused their drop.
Global stock markets, priced in US Dollars, closed Monday over 2.5% below last week's new all-time high on
the MSCI all-countries world index
, while major government bond yields set 3-month lows.
Gold priced in the Euro today held €5 below Monday's new all-time record LBMA benchmark of €1436 per ounce.
The
UK gold price in Pounds per ounce
meantime popped to 3-week highs, rising to £1216 – some 5% below last September's all-time high – after Boris Johnson's government said
it will defy US demands
and allow Chinese tech-giant Huawei's equipment into Britain's new 5G telecoms network.
"Brexit is
not going to go away
," said European Union chief negotiator Michel Barnier last night, four days ahead of the UK's official exit from the EU, and warning that a deal on future relations and trade deal will struggle for completion as scheduled this year.
"[While] uncertainty and global growth concerns due to coronavirus are still there, gold has been positive for the last few sessions and is witnessing profit booking now,"
Reuters quotes analyst
Jigar Trivedi at Mumbai stock-brokers Anand Rathi Shares.
Gold bullion fixed Monday morning in London at $1583.45 per ounce, half-a-dollar above early January's pop to new
7-year highs after Tehran fired rockets
at US bases in Iraq to retaliate for the drone assassination of Iranian commander Qasem Soleimani.
Now a little over 4 years since gold bottomed at $1050 in December 2015, the metal has recovered almost two-thirds of its $825 drop over the prior 4.5 years from its all-time Dollar high of $1895 at London's twice-daily LBMA Gold Price auction.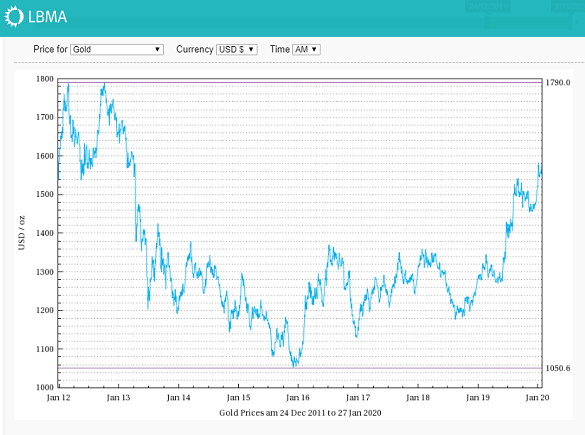 "Knee-jerk reactions to geopolitical events
tend to be short-lived
, so this rally could quickly fade," says a 2020 outlook for precious metals from refining group Heraeus today.
But Middle East tensions, plus widening trade-tariff disputes and the 2020 US election could all support "safe-haven asset demand" the note says, calling this a "favourable backdrop" for bullion.
"US rate cuts and falling bond yields should [also] be gold price positive...[but] a high gold price and slow economic growth will restrain consumer demand."
The new Chinese Year of the Rat could revive gold demand in Hong Kong, the city's jewelers tell the South China Morning Post, because this animal sign of the zodiac "is auspicious to get married and have babies."
Even before the coronavirus outbreak however, 2019's pro-democracy protests and anti-government violence
helped knock sales 40-70% lower
, says Haywood Cheung Tak-hay, president of the Chinese Gold and Silver Exchange Society.
Crude oil prices meantime rallied weakly on Tuesday ahead of US President Trump's pre-announced 'deal of the century' for Middle East peace, edging higher from Monday's new 3-month lows but still down over $10 per barrel of European benchmark Brent from this month's US-Iran conflict spike above $68.
"It is nothing but a plan to finish off the Palestinian cause," says Palestinian Prime Minister Mohammad Shtayyeh of the US plan, due for release later on Tuesday by Trump and Israel's Prime Minister Benjamin Netanyahu – like his host in Washington,
now facing corruption charges
in Parliament at home.
Claiming that the plan won't remove Israel from the occupied West Bank, occupied East Jerusalem, or the besieged Gaza Strip, leaders of the Palestinian Authority
say they weren't invited to Washington
and "no plan can work without them" says Al Jazeera.
Crude oil's steep drop is "100% down to the coronavirus," one trader tells the Wall Street Journal.
"I think we're close to peak hysteria, so yes the move is justified. We're in full panic mode."
The outbreak has seen several data agency's warn on
downgrading their 2020 growth forecasts
, with the Economist Intelligence Unit trimming up to 1 percentage point off China's already slow 6% annual expansion, just below the impact on the world's No.2 economy forecast by S&P Global Ratings.