Gold Prices -1% from 6-Week High as Dollar Jumps, UK Trade Deficit Yawns, Trump Denies Russia Scandal
Wednesday, 1/11/2017 16:22
GOLD PRICES fell hard from 6-week Dollar highs in London trade Wednesday afternoon, losing over 1% inside 3 hours as New York stock markets opened at new all-time record highs despite a fresh scandal over US intelligence service claims that Russia's Kremlin interfered to ensure the victory of Donald Trump for the White House.
The Dollar rose on the currency markets, hitting 1-week highs versus the Euro and Chinese Yuan.
Dropping $10 of the week's prior $18 per ounce gains, gold prices traded back down to $1178.
Silver also cut its gains to 0.6% from last Friday's finish, trading back below $16.60 per ounce after touching its highest Dollar prices in 4 weeks.
"This salacious tale makes Trump look so good, I'm guessing he's the one who leaked it."
Mexican and other emerging-market bond yields meantime rose as their debt prices fell Wednesday, but US and most Western interest rates held unchanged.
The British Pound fell to 3-month lows near $1.21, helping the gold price in Sterling touch fresh 7-week highs above £982 per ounce, after new data said the UK's trade deficit with the rest of the world – already at 2.8% of GDP in the third quarter of 2016 –
widened to £4.2 billion
for the month of November.
Including imports and exports of all items logged by HM Revenue & Customs, the UK's trade deficit in goods widened by 3.6% to £13.2bn for the worst November in at least 10 years.
Excluding non-monetary gold however – meaning primarily shipments of large bars through the London bullion market, the global center for wholesale dealing – the UK's trade deficit in goods worsened 3.7% to £12.7bn, the second widest gap ever after September's record £14.4bn reading.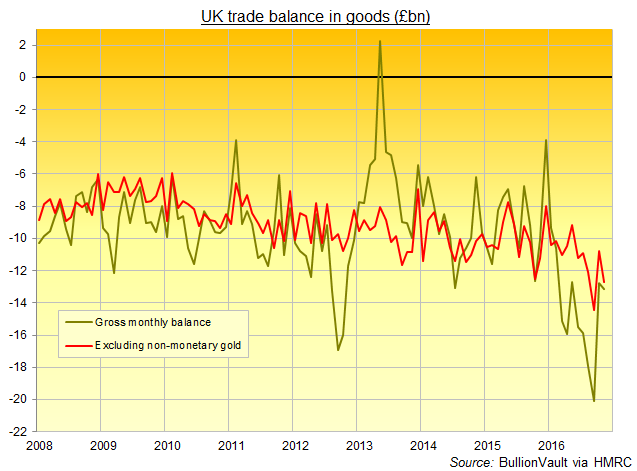 November's 2.5% drop in the Dollar gold price saw London gold inflows fall by one-fifth as outflows rose 5-fold from October.
UK gold exports to Switzerland – the world's key refining hub, where 400-ounce Good Delivery bars withdrawn from London storage are transformed into 1 kilo gold bars before shipping east to meet demand in
China and India, the top 2 consumer nations
– rose 441% to the highest value since January.
Ahead of the Chinese New Year, Shanghai gold prices today rose to a new 7-week high against the Yuan, offering new imports a premium back above $20 per ounce premium to London quotes – some 8 times the historic norm.