Gold Prices Jump to 7-Year High, 'Better Hedge Than Oil' as US and Iran Threaten to Attack Each Other
Monday, 1/06/2020 14:15
GOLD PRICES jumped to near 7-year highs against the US Dollar plus a raft of new record highs in other major currencies at the start of Asian trade Monday as the bullion market opened following this weekend's serious escalation of US-Iran tensions, writes Atsuko Whitehouse at BullionVault.
Gold priced in the Dollar gapped 4.2% higher to touch $1588 per ounce before easing back $10.
World stock markets meantime fell, while crude oil rose steeply together with the Japanese Yen, regarded as a 'safe haven' currency in times of market turmoil.
With the Yen touching 3-month highs on the FX market, Brent crude oil rose above $70 a barrel, the highest price since May, after surging over 3% on Friday's news of the US drone assasination in Iraq of Iranian special forces commander Qassem Soleimani.
"Being long gold is a better hedge than oil to such geopolitical risks," says a note from US investment bank and London bullion market-maker Goldman Sachs, claiming that history says the precious metal will likely rally sharply from current levels but only repeating its current 12-month forecast of $1600 per ounce.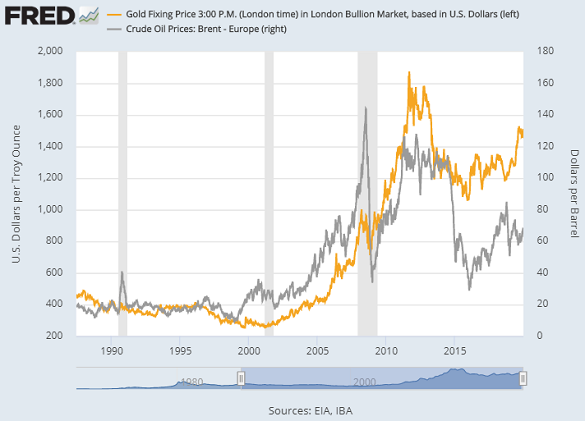 "With the gold market
already on the move
," says derivatives broker Saxo Bank's head of commodities strategy Ole Hansen, "the latest developments in Baghdad have sped up the move."
Lawmakers in Iraq this weekend
called for all foreign forces to quit
the oil-rich nation – torn by war since the 2002 US-led overthrow of Saddam Hussein – after a US drone strike killed Iran's Soleimani on a visit to its capital city, apparently to discuss a Saudi Arabian peace plan.
Huge crowds today packed the streets of Tehran for the military commander's funeral, with his daughter Zeinab warning the US it faced a "dark day" for his killing while the theocracy's leaders said it's withdrawing from the 2015 nuclear deal with European nations, from which the US already withdrew in 2018.
For his part, US President Trump – now facing impeachment in the Senate for allegedly asking a foreign government to interfere with a domestic political rival – threatened sanctions against Iraq if the country moves to expel US forces, and said he will attack 52 sites in Iran including historic cultural sites if it retaliates for Soleimani's death.
The United States just spent Two Trillion Dollars on Military Equipment. We are the biggest and by far the BEST in the World! If Iran attacks an American Base, or any American, we will be sending some of that brand new beautiful equipment their way...and without hesitation!

— Donald J. Trump (@realDonaldTrump) January 5, 2020
European equities fell ahead of the US open, following Asian markets lower as Japan led losses.
Gold prices for European investors briefly touched a new record high at €1423 per ounce, jumping 1.3% even as the Euro rose on the FX market after France, Germany and Italy all saw new survey data report a rally in their services sectors for December.
Gold prices in Sterling also gained, reaching almost 3-month highs at £1200 per ounce even as the Pound climbed after the Markit PMI survey said activity in the UK's services sector was dead-flat last month versus the initial 'flash estimate' showing further contraction ahead of end-January's confirmed Brexit from the European Union.
In contrast, China's services sector showed slower expansion in December with business confidence falling to the second lowest on record, despite a pick-up in new orders.
Beijing's trade delegation apparently plans to travel to Washington for 4 days of meetings mid-month, including the
signing of the 'phase one' truce
in the US-China trade war.
Palladium meantime hit an all-time peak of $2020 per ounce Monday, extending 2019's gain of 54% as supply deficits look set to continue for the metal, used mainly in catalytic converters in gasoline vehicles.
Silver prices
also rose, up 2% to touch a more than 3-month high at $18.50, while platinum advanced 0.5% to $986 per ounce.
The latest poll of active precious-metal investors confirms that nearly four in five of BullionVault's clients believe
gold prices will rise by more than 10%
in 2020 – the most bullish gold investors have been about bullion for three years.