Gold Prices Erase Last 2 Weeks' Gain as NY-Lon Spread Shrinks, London Reports Record Bullion Holdings
Friday, 5/01/2020 14:04
GOLD PRICES headed for their lowest weekly close in 4 in London on Friday, erasing the last fortnight's gains to trade at $1676 per ounce as stock markets also fell in Asia, the UK and the Americas.
The Shanghai Gold Exchange was closed for May Day, along with most continental European bourses.
After marking the highest month-end gold price since November 2012 at yesterday's physical benchmarking in London of $1702, Thursday then saw trading volumes on New York's Comex derivatives exchange leap 53.3% from the previous session, hitting a 2-week high as futures prices fell by $50 per ounce.
Spot quotes for London bullion fell less steeply, cutting the premium for New York June futures below $8 per ounce by lunchtime Friday, around 3-4 times the typical level but near the tightest location spread since the UK's Covid-19 lockdown – plus news of Swiss refineries suspending production – sent it
surging to a record $100
in late March.
"The markets remain nervous of the potential need for delivery of gold against short positions in the Comex June contract," said Rhona O'Connell at brokerage INTL FCStone in a note to clients earlier this week.
"This does seem somewhat overdone. Comex inventories [in vaults near New York] now stand at 60% of June open interest and 40% of aggregate open interest...and it is unusual for even 5% of total open interest to come to delivery."
"There is plenty of gold around," agrees consultancy CPM Group's Jeffrey Christian, but with gold prices rising steeply in 2020 so far "banks that are active as market makers in physical gold in London have been hedging [their price exposure] with a short position on the [New York] Comex futures market."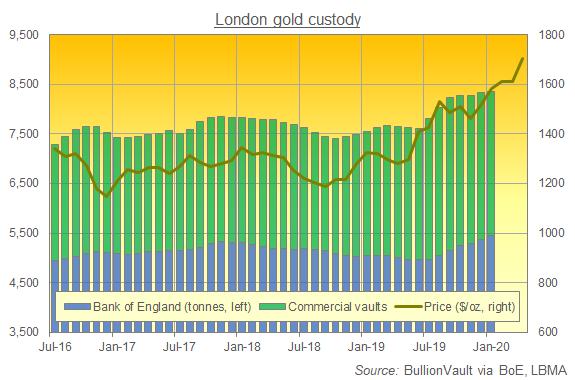 January 2020 saw "record stocks" held in London's professional vaults said industry body the London Bullion Market Association today, reporting a record 8,363 tonnes of gold (valued at a record $426bn) and 36,253 tonnes of silver ($20.8bn).
Within those
LBMA figures however
, January's growth came in custody at the Bank of England – typically used by central banks – with London's commercial vaults reporting a 50-tonne outflow to a 5-month low of 2,902 tonnes, down 5.0% from the series peak reported for last September.
Back in New York futures, "You should expect to see volatility again in May as we approach [expiry of] the June contract," says Christian at CPM.
"It's going to continue for as long as the financial markets and global economy are constrained by the realities brought on by the coronavirus."
Looking back at January to March's strong rise in bullion prices, "Gold demand in Q1 was very much drven by strong safe-haven buying," said John Mulligan of the World Gold Council on a webinar Friday presenting the mining-industry group's
latest quarterly supply and demand data
.
"That offset the sharp fall in consumer elements to leave the overall market marginally firmer year-on-year."
With jewelry and small-bar demand slumping across the major Asian markets between January and March, gold-backed investment trusts traded on Western stock markets surged in size, needing the heaviest quarterly inflow of bullion to support their value since Q1 2016, back when gold prices turned higher and ended a 4-year bear market.
That growth in
gold-backed exchange-traded products
was most likely driven by professional money, with the proportion of shares held by institutional investors in the giant SPDR Gold Trust (NYSEArca: GLD) already rising to 40.7% by New Year from 37.8% at end-September.
The GLD's level of institutional ownership peaked at 46.6% in Q3 2016.
Among all such gold-backed products – the bulk of which hold metal in London vaults – the Q1 expansion was led by European-listed shares, which outweighed the growth in North American-listed gold ETPs by 17%.
A new record quarter for European ETF inflows, the Jan-March period of 2020 was only the 6th largest for North American products according to data compiled and published by the World Gold Council.