Gold Price Slips as US Vaccinations Start But 'Inflation Will Support' in 2021 as Germany Re-Enters Lockdown
Monday, 12/14/2020 14:52
GOLD PRICES fell even against a weak US Dollar on Monday as Asian and European stock markets rose amid widening hopes for a vaccine-led economic recovery while the UK and EU agreed to a last-gasp extension to Brexit trade talks, writes Atsuko Whitehouse at BullionVault.
Spot gold prices dipped as much as 1.0% to $1820 per ounce, a 2-week low, while the US Dollar Index, which measures the greenback's value against a basket of other currencies, retreated 0.4% back to its lowest since April 2018.
Longer-term interest rates rose, in contrast, with the yield on benchmark 10-year Treasury bonds, which move inversely to price, climbing on Monday after declining two sessions in a row.
Hospitals in all 50 US states were set to receive the Pfizer-BioNTech Covid-19 vaccine on Monday after an emergency authorisation Friday.
"More than 100 million people, or about 30% of the US population, could be immunized by the end of March," US Operation Warp Speed chief adviser Dr Moncef Slaoui said in an interview Sunday.
More immediately however, and with UK vaccinations already underway, London is set to enter Tier 3 "imminently" following a sharp spike in coronavirus cases, while No.1 Eurozone economy Germany goes back into a full lockdown Wednesday, with nonessential shops and schools closed across the country over the Christmas period amid a rise in coronavirus deaths and infections.
For gold prices, "The euphoria around a Covid-19 vaccine will likely overshadow further easing from the Federal Reserve and a fiscal relief package in the near term," reckons Howie Lee, an economist at OCBC Bank in Singapore.
"But gold could rally in 2021 when the vaccine optimism dies down and investors' focus returns to rising inflation expectations due to the large swathe of monetary and fiscal stimulus the US economy still requires."
A bipartisan Covid-19 relief plan worth $908 billion is set to be introduced in the US Congress as early as today, split into two packages in a bid to win approval.
"Even if the world
can recover from the pandemic
to some extent," agrees gold analyst Koichiro Kamei, "the structural factors that support higher gold prices will be present."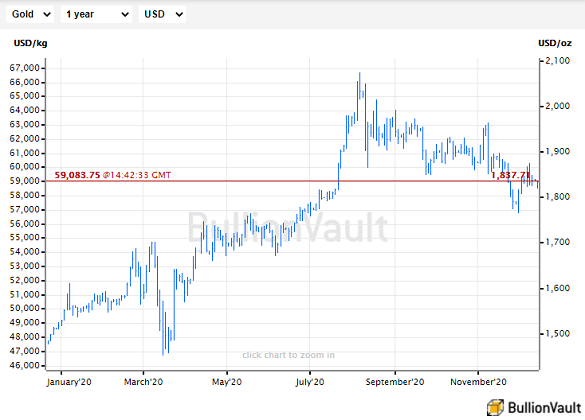 Gold prices for UK investors meantime dropped steeply, down 2.5% near 2-week lows, as the Pound made its sharpest gain in almost 2 months on the currency markets after UK Prime Minister Boris Johnson and European Commission President Ursula von der Leyen agreed "to go the extra mile" and keep working on a post-Brexit accord.
Yesterday marked their most recent deadline to finish talks. No new deadline was set, but the UK ends its 12-month "transition period" – during which new arrangements for business, travel and trade were supposed to be implemented – on 31 December.
Brexit campaigner Johnson said last week the UK and EU remain "far apart" on 'level playing field' rules for product standards and also on fishing rights, with Government sources telling UK newspapers that the
Royal Navy is on standby
to stop EU boats operating in British waters in the event of no deal.
European gold prices fell 1.3% to €1497 per ounce Monday morning, cutting the 2020 gain to 10.9% from start-August's peak of 29.3%.
US stock futures moved higher in morning trade as markets indicated a rebound from last week's losses.
European shares also rose following stocks in Asia-Pacific as major bouses entered positive territory. The pan-European Stoxx 600 added 1.0% Monday lunch time.
Prices for silver
, which finds nearly 60% of its annual demand from industrial uses, recovered a 1% dip this morning and edged higher to $23.95 per ounce.
Platinum, which finds two-thirds of its demand from industrial uses now including the
production of green hydrogen
, rose 1.1% to $1023 per ounce.