2018 Inflation 'Concerns' See Gold Price Rally Before Fed Rate Rise
Wednesday, 12/13/2017 13:45
GOLD PRICES rallied $10 per ounce from yesterday's fresh 5-month lows against the Dollar in Asian trade Wednesday, only to lose half that bounce in London as traders looked to today's key US monetary policy decision from the Federal Reserve.
With US inflation data due later on Wednesday, just before the US Fed's widely-expected quarter-point hike to interest rates, new data this morning put Germany's consumer-price index 1.8% higher in November from the same month in 2016.
Gold priced in Dollars retreated to $1241 per ounce, only $5 above Tuesday's low, as world stock markets failed to follow Wall Street up to yet more new all-time highs.
Silver prices
tested last week's 5-month low at $15.65 per ounce, losing some 2% for 2017 to date versus the Dollar.
Brent crude meantime rose near Monday's 2-year highs above $64 per barrel as the key pipeline from the North Sea's Forties oil field remained shut for repairs.
Natural gas prices in Europe's wholesale spot market traded near 4-year highs.
"The outlook for inflation is likely to remain a source of concern in 2018,"
says Edward Bonham Carter
, vice-chairman of £48 billion ($64bn) UK asset managers Jupiter.
"There is a question mark over how long wage growth can remain subdued in countries like the UK and the US, with labour markets being so tight."
Average weekly wages in the UK rose 2.3% in the 12 months to October, new data said Wednesday.
But with inflation in the cost of living rising 3.1%, real wages – when adjusted for inflation – held more than 3 pence in the Pound below their all-time peak of March 2008.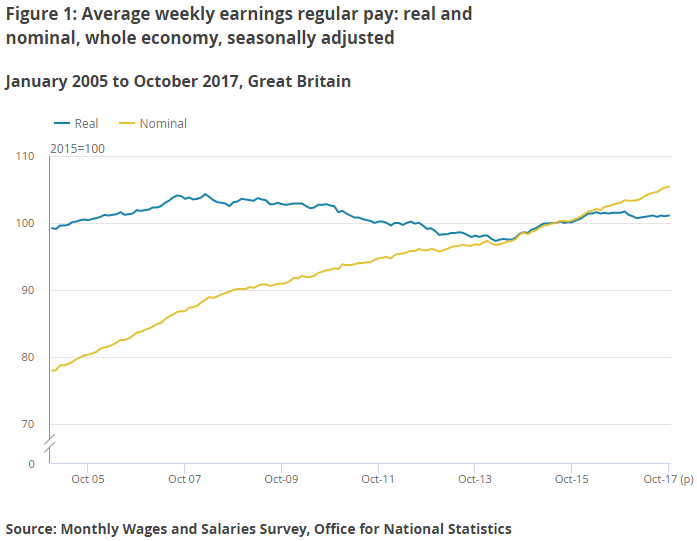 Major government bond prices slipped on Wednesday, edging the yield offered to new buyers higher.
Ahead of the Fed decision, 10-year US Treasury yields touched 2.42% per annum, the highest since late October.
Betting also grew that the Fed will surprise the markets with a half-point hike to a ceiling of 1.75%, pricing that possibility at odds of more than 1-in-8 – some three times the
likelihood implied by the Fed funds futures market
this time last month.
"On a long-term basis, the shift of the business cycle leads us to
expect commodities to outperform other asset classes
, even as policy makers are forced to hike rates," says a new commodities note from US investment bank and London bullion market maker Goldman Sachs.
"The demand backdrop today is now even stronger than a year ago."
Now forecasting a return of nearly 10% from commodities in 2018 – up from the 4% it forecast in October – "There is no evidence of a mass exodus from gold" in favor of crypto-currency Bitcoin, Goldman Sachs' analysts add, pointing to solid investor holdings in gold-backed exchange-traded trust funds, currently the highest since spring 2013 saw gold's sharpest price drop in three decades.
"Bitcoin is attracting more speculative inflows," Goldman says, calling the sources of demand for gold as an investment hedge "vastly different".
Bitcoin spot prices
overnight set fresh all-time highs above $17,600 – a gain of 2,168% from this time last year.
"Platinum [has been] falling significantly more sharply than the other precious metals," says the daily commodities note from German financial services group Commerzbank, pointing to the industrially-valuable metal's fresh 22-month lows at $870 per ounce.
"The price differential to gold widened to around $365 again – the biggest gap in two months – and the gap [with gasoline autocatalyst metal] palladium increased to $135.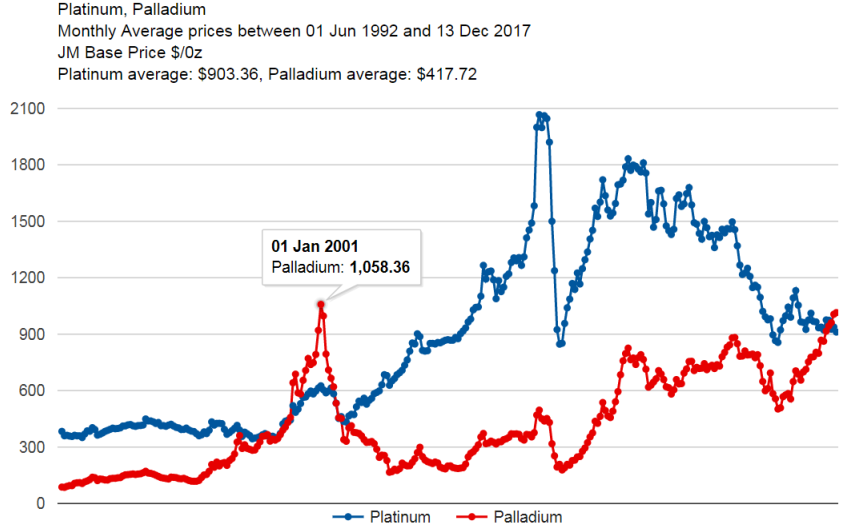 The last time that prices to
buy platinum
were "this cheap as compared with palladium," notes Commerzbank, "was in April 2001."