Best-Ever Month for Stocks Sees Gold Price Sink Even as Dollar Falls Amid Vaccine Hopes
Monday, 11/30/2020 14:56
GOLD PRICES dipped further to new 5-month lows Monday lunchtime in London, falling as world stock markets held on to November's record gains amid encouraging Chinese economic data and hopes that Covid-19 vaccination programs will begin soon, writes Atsuko Whitehouse at BullionVault.
Gold prices fell another 1.4% to $1765 before bouncing $7 per ounce.
Down 6.1% from the start of November, that marks gold's biggest monthly fall since Donald Trump won the White House in November 2016.
Silver prices plunged 3.4% to $21.90 per ounce early this morning, the lowest in 2 months, recovering to $22 but still down 7.0% for this month.
Platinum prices
in contrast held steady, down only 0.3% to $973 per ounce and up 12.9% for November, with the industrial precious metal "[supported] above $950 on physical demand," says the daily note from Swiss refiner MKS Pamp's team.
"Gold has remained under pressure as the appetite for risk remains seemingly unsated," says the latest daily gold-price and precious metals note from Rhona O'Connell at brokerage Stone X Group Inc, "with US officials saying that a vaccine could be deployed before year-end" and China's latest factory-activity survey posting its highest reading since September 2017.
What other analysts also called a "risk-on mood" saw traditional safe haven the US Dollar also fall, poised for a 2.7% drop in November to the lowest since April 2018 against its major peers on the forex market.
"Gold is down
despite the weak Dollar
because of internal factors of selling from ETFs," says Bruce Ikemizu, director of the Japan Bullion Market Association.
"When that selling has run its course, gold will probably rise again due to the weak Dollar factor."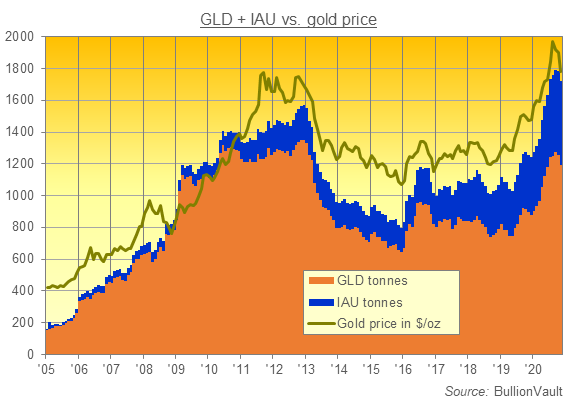 Liquidation from
gold-backed ETF trust funds
slowed at the end of last week as US markets were shut or quiet for the Thanksgiving holidays.
But while the iShares Gold Trust (NYSEArca: IAU) saw net investor inflows from last Monday, the giant SPDR Gold Trust (NYSEArca: GLD) recorded its third consecutive weekly outflow of investor money, shrinking by 5.1% to the smallest in near 5 months.
"November looks set to be an awesome month for equity investors," says Australian bank NAB's analyst Rodrigo Catril, "with Europe leading the charge at a regional level."
European stocks were mixed Monday, but France and Italy showed their best-ever monthly stockmarket gains, up 21% and 26% respectively, while the MSCI measure of all rich-world equities has gained 13.5% for November so far.
The US S&P500 index has climbed over 11% to set new all-time peaks.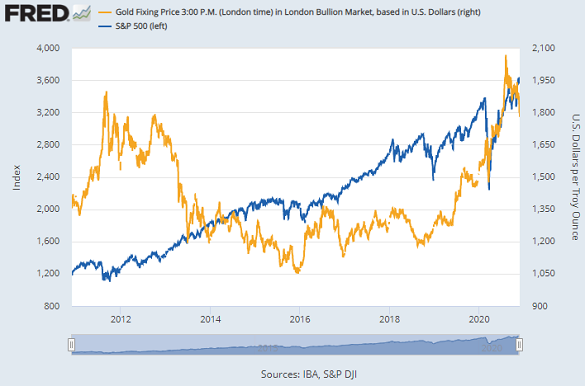 China's National Bureau of Statistics today said that the official manufacturing Purchasing Managers' Index (PMI) for November rose to 52.1 from 51.4 in October, the fastest monthly expansion pace in more than three years for factory-activity in the world's 2nd largest economy.
Gold prices on the Shanghai Gold Exchange meantime continued to show a discount to London on Monday, widening the gap to $25 per ounce as wholesale bullion demand in the metal's No.1 consumer market remains weak.
Gold priced in Yuan overnight hit an 8-month low at ¥370 per gram, losing 6.9% in November after 3 of China's major state-owned banks announced they are suspending new precious-metal account openings amid increased volatility in precious metal prices.
Talks between the UK and the European Union over a trade deal to follow 31 December's final exit from the world's 2nd largest economic bloc are now heading into what British Foreign Minister Dominic Raab calls
a "very significant" week
.
UK and other European government health regulators are pushing to approve US pharmaceutical giant Pfizer's Covid vaccine quickly, media reports say, while competitor Moderna is filing for US regulatory approval so it can start widespread vaccinations.