Gold Price Slips as 'Vaccine Relief' Ignores Worsening 2nd Wave, Silver Shows Record Deficit
Wednesday, 11/18/2020 14:54
GOLD PRICES slipped against a falling US Dollar on Wednesday, rallying $10 from a re-test of Monday's low at $1865 per ounce as further positive news on Covid vaccines was offset by this winter's worsening second wave.
After competitor Moderna (NYSE: MRNA) said Monday that its
Covid vaccine
shows 94.5% efficacy – and with much simpler and cheaper distribution – Pfizer (NYSE: PFE)
today updated last week's figure
of 90% for its product to 95%, with "observed efficacy in adults over 65 years of age" now over 94%.
World stock markets recovered yesterday's dip and major government bond yields held unchanged, but data collated by Johns Hopkins University today said the virus's global death toll has passed 1.3 million with a total of 55.7m infections.
"The psychological relief and a shift in risk sentiment may still weigh on gold in the immediate term," says a note from London bullion market-making and clearing bank HSBC, "possibly taking gold close to support at $1800 per ounce."
Now trading $200 below early-August's fresh record high, gold priced in the Dollar hasn't fallen below $1850 since mid-July.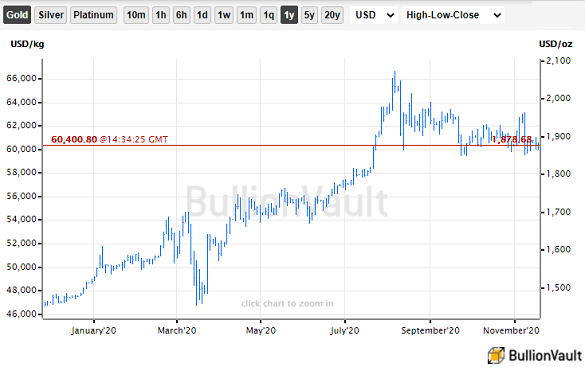 Giant gold-backed ETF the SPDR Gold Trust (NYSEArca: GLD) saw 0.7% liquidation by shareholders yesterday, pulling its shares in issue down to the fewest since late-July, some 4.1% below September's 7-year peak.
The iShares Silver Trust (NYSEArca: SLV) also shrank again Tuesday, needing almost 50 fewer tonnes to back its shares in issue at 17,623 tonnes, down 2.5% from mid-August's new record above 18,000 tonnes.
Silver prices
today tracked gold lower and higher, trading 25 cents below last weekend's level by lunchtime in London at $24.26 per ounce.
Thanks to the economic slump, industrial demand for silver – used in electrics, electronics, solar energy and many other technologies – will fall 9% in 2020 as a whole says new data from specialist analysts Metals Focus for the Washington-based Silver Institute.
With US retail sales data showing weaker-than-expected growth Tuesday, "We're seeing states begin to impose some activity restrictions," noted Federal Reserve chair Jerome Powell on an online discussion, warning that the economic recovery from March-June's historic crash is likely to be slowing.
So-called 'core' consumer price inflation in the 19-nation Eurozone held at just 0.2% in the year to October, new data said today, but crept up to 1.5% for UK households.
Thanks to the recent vaccine trial news, the economic outlook for
2021 is now "materially brighter"
than previously thought, said Bank of England chief economist Andy Haldane in a speech today.
But with the UK economy crashing harder and failing to rebound worse than "any of its peers"
according to Reuters
, negative interest rates may still be needed Haldane went on, saying that the introduction of digital central-bank currency could assist that move by "enabling interest rates to be levied on retail monetary assets" directly.
So-called crypto-currency Bitcoin today
rose back above $18,000
– still some $1,500 below its record peak of late-2017, and with a near-85% plunge inbetween.
"Institutions help drive rally as Bitcoin ETP volumes surge 50%," claims a headline at CoinTelegraph, but 13F filings compiled by Fintel.io show investment funds reporting their stakes to US regulator the SEC accounted for only 3.1% of the now $10bn Grayscale product (OTCMKTS: GBTC) at end-September.
The number of shares issued in Grayscale's Bitcoin ETP has since swollen by 10.5%.
Giant gold ETF the GLD meantime saw over 47% institutional ownership at the end of Q3.
The Euro gold price also fell near last week's 5-month low to trade 11.0% below September's record, bouncing €10 to €1582 per ounce.