Gold Prices Try to Rally Again as Inflation Forecasts Hit 18-Month High, WFH Staff 'Should Pay 5% Extra Tax'
Thursday, 11/12/2020 14:35
GOLD PRICES tried but struggled once again on Thursday to recover from this week's $100 plunge, made after US pharma-giant Pfizer declared successful trials of a Covid-19 vaccine.
Gold priced in US Dollars rallied to $1877 per ounce as longer-term interest rates fell back from their spike and global stock markets also retreated after setting fresh all-time highs on
Pfizer's vaccine news
.
Hungary meantime said today it will become the first European Union member to
trial Russia's 'Sputnik V' Covid vaccine
, "the latest in a series of moves that analysts say prove Budapest is cosying up to Moscow," according to the
Financial Times
.
"The gold market like all others is built on expectations," said James Steel, chief precious metals analyst at London bullion market-maker and clearer HSBC, "so it needs to recalibrate because we're not going to get that 15% of GDP fiscal stimulus" proposed by US Democrat Joe Biden's winning presidential campaign.
With current White House incumbent Donald Trump still refusing to accept the ballot, and with Mitch McConnell leading the Republican Senate, "gridlock looks likely" agrees independent analyst Ross Norman, speaking to Steel on today's weekly webinar for the London Bullion Market Association.
That means "more heavy lifting for the Fed" as the US central bank tries to stimulate the economy with easy monetary policy said Suki Cooper of bullion market-maker Standard Chartered.
"Looser monetary policy is very positive for gold," Cooper explained, putting real interest rates "back in the driver's seat" for gold prices, because the returns to cash and bonds, after you account for inflation, are "set to remain low or negative worldwide."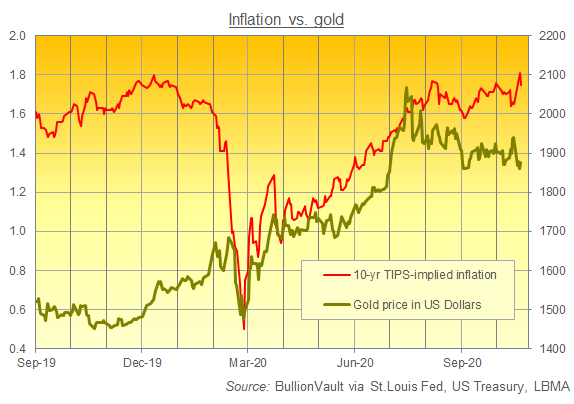 Inflation expections implied by US Treasury bond pricing today eased back from Wednesday's level of 1.81% per annum, the highest since May 2019 and more than 3.5 times the pace predicted by the US bond market at
mid-March's Covid Crash
across financial and commodity markets.
With bond yields falling Thursday as government debt prices rose, the real rate of interest offered by 10-year US Treasury bonds held at minus 0.83% after accounting for inflation expectations, 6 basis points below Monday's spike to the highest since early July.
That was one month before gold prices set their current record high of $2075 per ounce as real 10-year rates fell to multi-decade lows at minus 1.08%.
Yields on 2-year bonds from Greece – whose debt crisis a decade ago almost saw it quit the Euro single currency – today fell below zero even before accounting for inflation expectations.
"The EU may need to
extend its suspension of budget rules
" capping national government borrowing and spending, said EU commissioner Paolo Gentiloni on Wednesday, calling the idea of a 'V-shaped recovery' from the region's Covid-19 economic crash an "illusion".
"Working from home
will be part of the 'new normal'
well after the pandemic has passed," says Jim Reid, credit strategy chief at troubled German lender Deutsche Bank (ETR: DBK), whose shares are currently trading at what would be a life-time low if not for March's Covid Crash to just 5% of their pre-financial crisis price.
Reid's new report proposes a 5% income tax on work-from-home staff or their employers, because they "are contributing less" to the economy by not commuting or buying lunch from town-center outlets.
Deutsche has since grown its share of new issues in the $550bn market for US commercial mortgage-backed securities to 20%,
twice its pre-Covid level
.
"Staff who work from home after pandemic 'should pay more tax' –
really interesting idea
," says Brent Hoberman, co-founder of online travel agency Lastminute.com and also of online furniture store Made.com.
Music venues in London this week launched a crowdfunding plea to try keeping 30 night-spots afloat after they failed to win financial support from the government's £1.6bn ($2.0bn) Cultural Recovery Fund.
UK
gold prices today
rallied to £1425 per ounce, 1.7% above yesterday's new 5-month lows, while Euro gold reached €1592, up 1.6% from Monday's multi-month low.