Gold Price Loses Bounce from 3-Month Lows Even as Trump Denies US-China Trade Deal
Monday, 11/11/2019 14:23
GOLD PRICES rallied Monday morning before erasing that 0.5% bounce from 3-month lows even as tensions over US-China trade relations returned and the weekend saw political violence from Hong Kong to the Middle East and Latin America, writes Atsuko Whitehouse at BullionVault.
Spot gold prices rose to $1466 per ounce before slipping back to $1459 as Wall Street prepared to open for business following Friday's new record highs in the S&P500 share index.
The US Dollar meantime retreated after making multi-week highs, while major government bond prices stayed down, keeping 10-year US Treasury yields at their highest since the end of July as the US bond market stayed shut for Veterans Day.
Silver prices
also rose and then fell 0.5% with gold, dipping back towards 3-month lows beneath $16.80 per ounce. Platinum made new 3-week lows beneath $882.
"[Gold] prices are going through a technical bounce from the recent lows," said one Asian dealer to Reuters overnight, "and the geopolitical tensions in Hong Kong are providing further boost."
But new data released late Friday showed speculators trimming their bullish bets via the Comex derivatives exchange ahead of
last week's gold price plunge
.
The world's largest gold-backed EFT trust fund, the giant SPDR Gold Trust (NYSEArca: GLD), shrank to its smallest in 8 weeks on Friday, suffering its biggest one-day outflow of investor money since the beginning of December 2016.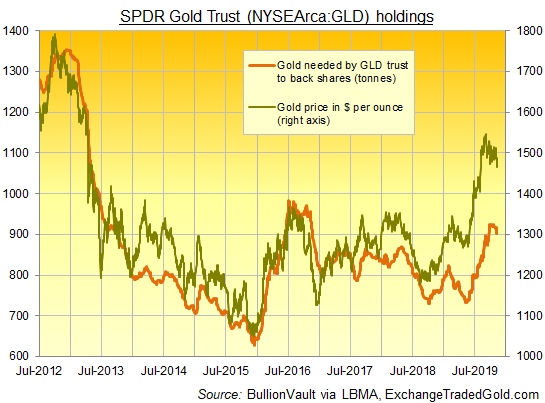 US trade talks with China are moving along "very nicely" said President Donald Trump on Saturday, but he will only make an agreement
if it's the "right deal for America"
, denying reports that both sides are about to start eliminating some tariffs on each other's goods and also claiming that he has succeeding in "breaking" the Chinese economy "like an egg".
China's factory-gate prices fell the most in more than three years in October, new data said Sunday, while consumer goods inflation jumped on the spike in pork prices due to the widening outbreak of African swine fever.
Escalating violence in Hong Kong meantime saw Asian stock markets suffer their worst day since August on Monday, even as Chinese e-commerce giant Alibaba said it made record sales of $31 billion on today's Singles Day.
Anti-government protests also continued in Lebanon and Iraq, while the United Nations said it is very concerned by the threat of
worsening violence in Bolivia
where socialist Evo Morales at the weekend accepted defeat in the Latin American nation's presidential election and stood down after pressure from army chiefs.
Gold prices for European investors also gave back an earlier gain Monday as Spain's weekend elections left Madrid's parliament without a clear leader once more.
The UK gold price in Pounds per ounce today
meantime fell hard once more, down to late-July levels at £1135 as Brexit leader Nigel Farage did a U-turn on last week's electioneering and said his party will not stand candidates in next month's vote where the Conservative candidate risks losing to pro-remain politicians.
The UK's sovereign credit rating was today placed on negative outlook by Moody's Investors Service, citing Brexit challenges to government revenues and a weakening commitment to fiscal discipline.