Covid-19 Vaccine Crushes Gold Almost $100 as Bond Yields Jump, Equities Extend Biden Surge
Monday, 11/09/2020 14:57
GOLD PRICES sank Monday lunch time in London as global stock markets surged and interest rates jumped with commodity prices on news that US pharma giant Pfizer's Covid-19 vaccine has passed Phase 3 trials successfully, writes Atsuko Whitehouse at BullionVault.
After rising alongside stocks and bonds following the weekend's victory for Democrat Joe Biden in the US presidential election – still disputed by White House incumbent Donald Trump – gold prices touched 8-week highs at $1965 before tumbling almost $100 per ounce on the joint announcement from Pfizer (NYSE: PFE) and BioNTech SE (Nasdaq: BNTX).
Spot gold prices erased last week's 3.2% surge, recorded as Biden's victory became clearer, while the US Dollar index – a measure of the currency's value versus its major peers – edged higher following a sharp sell-off to near 2-month lows.
Both Euro and UK gold prices declined 4.0% to 4-month lows, hitting €1577 and £1423 per ounce respectively.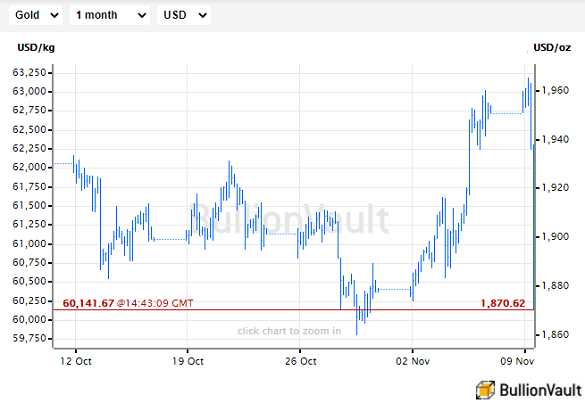 "The first set of results from our Phase 3 vaccine trial provides the initial evidence of our vaccine's ability to prevent Covid-19."
US 10-year bond yield surged to 0.93% as money 'safe haven' government debt, 11 basis points higher from the previous session and back to last Tuesday's level, day of the US presidential election.
The news sent global stocks, which were already rallying hard, sharply higher.
The pan-European Stoxx 600 soared 3.4%, while futures for the US benchmark S&P 500 index hit a record high.
Japan's Nikkei 225 index had already climbed 2.1% to reach the highest in 29 years before the news.
"The vaccine has the power to really drive risk assets higher, credit spreads tighter, the equity market higher, emerging-market currencies stronger," says Matthew Hornbach, Morgan Stanley head of global macro strategy.
West Texas Intermediate crude climbed nearly 10% to $41 a barrel.
In contrast, silver prices dropped 5.2% to $24.29 per ounce after climbing 9.2% last week, while
platinum prices
also declined 3.3% to $867 per ounce following the strong week of 7% gain.
Pfizer now says it could apply for US authorization to start distributing its vaccine later this month.
Joe Biden is to convene a Covid-19 task force meeting today with former top officials.
Former US President George W.Bush congratulated Biden on Sunday, becoming the highest-profile Republican to publicly declare the election over.
Donald Trump meantime plans to
restart campaign-style rallies
to boost support for his as yet unproven claims the US election was stolen from him, even as his advisers and personal lawyer clash behind the scenes about whether he should simply concede defeat.
The total of confirmed coronavirus cases worldwide has
surged past 50 million
following record numbers of new cases in several countries.
More than 1.25 million people have now died after contracting the virus, according to Johns Hopkins University on Sunday.