Gold Prices Sink Worst Since Trump's Election as Bond Yields Leap on US-China Trade Hopes and Stimulus Spending Promises
Friday, 11/08/2019 12:42
GOLD PRICES gave back an overnight $10 rally in London trade and then sank to new multi-month lows Friday, heading for the worst weekly plunge versus a rising US Dollar since November 2016 as 'safe haven' bonds also sank but world stock markets neared new record highs.
Trading down through $1460 to the lowest Dollar price since start-August, gold lost over 3.5% from last Friday's benchmarking in London's bullion market.
European stock markets
slipped but headed for a 1.6% weekly rise, nearing their best Friday finish since the record peak of mid-April 2015, while New York's S&P500 finished Thursday with a new all-time high.
Western government bond prices continued to tumble in contrast, driving the interest rate offered by 10-year US Treasury bonds up above 1.90% per annum – jumping one-fifth of a percentage point for the week to the highest since end-July.
With Treasury yields surging and gold prices plunging on Thursday – down $25 inside 2 hours of yesterday's New York opening – Bloomberg reports that giant US investment banks J.P.Morgan and Citigroup both advised clients to cut their 'safe haven' bets on bonds and bullion.
Over the last half decade, 10-year US yields have risen this quickly or faster in only 11 weeks.
Gold prices fell in all of them.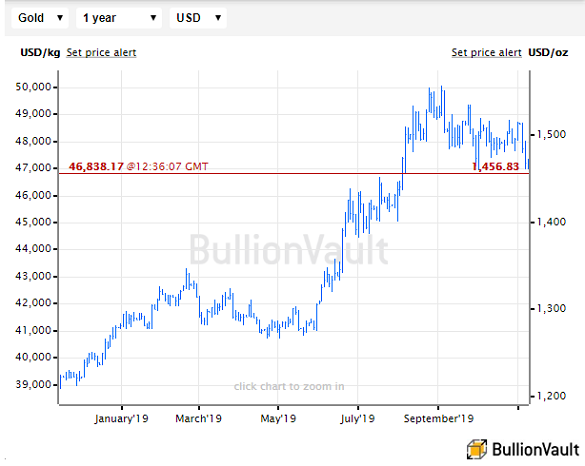 "[We see] signs of a cyclical recovery, easing geopolitical tensions [and] synchronized monetary easing" from major central banks looking to support financial markets, said J.P.Morgan's note to clients yesterday after news broke that
a US-China trade deal is looking possible
.
Shanghai's stock market fell Friday as new data said China's exports of goods fell for the 3rd month running in October, down 0.9% from a year ago as imports sank 6.4%.
After the UK's two main political parties both
set out big spending promises
for next month's general election, Japan's Prime Minister Abe today told his cabinet "to compile a new economic [stimulus] package" of infrastructure spending "to guard against the chance overseas risks may hurt Japan's economy."