Gold Prices Drop as Stocks, Commodities Sink in Face of Covid's Winter Wave
Wednesday, 10/28/2020 13:57
GOLD PRICES sank to 3-week lows against a surging US Dollar on Wednesday, dropping beneath $1880 per ounce as Western stock markets and commodity prices plunged amid the fast-worsening winter wave of Covid-19.
With the MSCI World Index already down 3.5% last night from start-September's new record high, only China and Australia today bucked a drop in Asian-Pacific shares.
The EuroStoxx 600 index then fell 3.4% by lunchtime in London, led by a 3.9% slump in Germany's DAX as copper prices fell 1.3%, corn and wheat both lost over 2%, and crude oil sank by 5%.
Silver tracked and extended the drop in both gold prices and industrial metals, losing 5.3% for the week so far at $23.33 per ounce.
The rising Dollar also knocked the British Pound down to 1-week lows beneath $1.2950, while the Euro also lost 1 cent to reach its weakest since Monday 19 October at $1.1720.
That failed to stop the price of gold for Euro investors losing 1.2% to erase this week's earlier gains at €1602, while
the UK gold price in Pounds per ounce
sank £15 from this morning's 1-week high to bounce off £1452.
"Pressure [on gold prices] as the Dollar strengthens, partly on the forecasts of a strong GDP number," says chief analyst Rhona O'Connell at brokerage StoneX, looking ahead to Thursday's US economic report.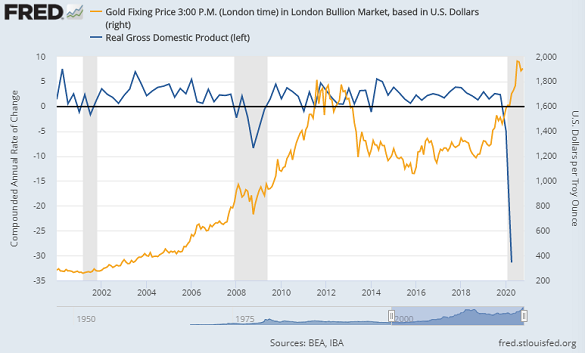 Consensus forecasts for tomorrow's data see Q3 almost reversing Q2's annualized plunge of 31.4% from Q1, with core inflation on the PCE measure expected at 1.7% per year.
Interest rates in the bond market meantime fell Wednesday morning to 2-week lows at 0.75% per annum on 10-year US Treasury debt.
Inflation expectations in the US bond market also fell to a 2-week low, showing at 1.69% per annum on 10-year TIPS.
Together that put the real rate of interest at minus 0.94%, sharply higher from the multi-decade low of minus 1.08% hit on the day gold set its current all-time record high of $2075 per ounce on 6 August.
"In the past, movement in the price of gold has been a useless predictor of future inflation," says a new paper from academic economists Claude Erb and Campbell Harvey,
repeating a view
they first published in 2012 as gold prices plateaued after the global financial crisis.
"In both 1980 and in 2011, however, high real gold prices coincided with widely held views that future inflation would be significant. Those widely held views were ultimately proved wrong.
"Perhaps this time is different, and one economic legacy of Covid-19 will be a decade of high inflation."
After a UK study found that people contracting Covid-19 may then retain antibodies to show immunity
for only a few months
– and amid
calls for the UK to join
the growing number of European countries returning to a national lockdown – specialists today warned that any vaccine "is
likely to be imperfect
[and] might not prevent infection."