Gold Prices Fail to Hold $1500 as Trump Toasts Stock Market's New Record High Ahead of Fed Rate Cut
Monday, 10/28/2019 14:42
GOLD PRICES dropped Monday lunchtime as President Trump said the China-US trade war is set to pause with a partial deal, the European Union agreed to the UK's request for a Brexit extension, and financial markets looked ahead to Wednesday's key interest-rate decision from the Federal Reserve, writes Atsuko Whitehouse at BullionVault.
Spot
gold prices
fell 0.8% to trade $7 below the $1500 mark broken for the first time in 2 weeks last Friday.
Silver also fell as gold prices erased last week's gains, losing 50 cents from Friday's 5-week high but holding firmer at $17.84 per ounce.
"We are looking probably to be ahead of schedule to sign a very big portion of the China deal, we'll call it Phase One but it's a very big portion,"
Trump told reporters
, without giving a date.
Crude oil prices also fell – despite US Treasury Secretary Steven Mnuchin saying that Washington will ramp up its sanctions against Iran – after fugitive Islamic State leader Abu Bakr al-Baghdadi died "whimpering and crying" in a raid by US special forces in northwest Syria, fulfilling what Trump called his top national security goal.
Major government bond prices retreated, edging longer-term interest rates higher.
Asian and European share prices rose, and the S&P500 index showed US stock market extending last week's new record-high close.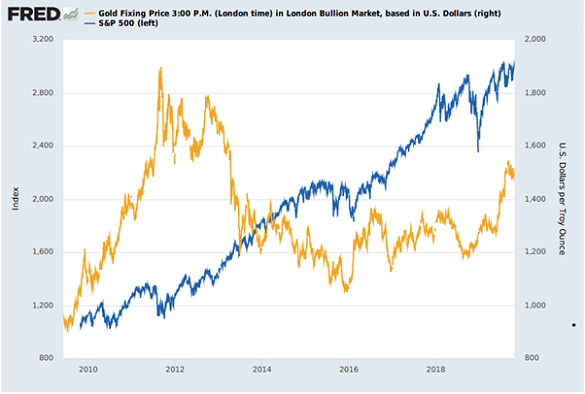 "Any development on the trade war front will just have an interim effect on gold," reckons John Sharma, economist at National Australia Bank.
"[But] the situation is far more complicated to be solved in a hurry."
Betting on the US Fed's 30 October interest-rate decision meantime
put the chances of a cut
on Monday as high as 94.1%, according to the CME's FedWatch tool.
"Keeping the forward guidance is the path of least resistance, the
FT
quotes Michelle Meyer, an economist at Bank of America Merrill Lynch,
pointing at key language
in the Fed's accompanying statement about "act[ing] as appropriate to sustain the expansion".
"The data now is softening so I think they have to give some nod in that direction."
The S&P just hit an ALL TIME HIGH. This is a big win for jobs, 401-K's, and, frankly, EVERYONE! Our Country is doing great. Even killed long sought ISIS murderer, Al-Baghdadi. We are stronger than ever before, with GREAT upward potential. Enjoy!

— Donald J. Trump (@realDonaldTrump) 28 October 2019
Investors will also watch the Bank of Japan's policy decision on Thursday, expected to be a close call on whether to unleash more stimulus or hold fire for now.
Rumours said French President Macron was opposed, wanting the UK to leave sooner – something it can still do if Parliament approves the internal UK border in the Irish Sea proposed by Johnson and the EU earlier this month.
The House of Commons will instead vote Monday evening on Johnson's call for an election in mid-December, with the opposition Labour Party – trailing in the polls – set to oppose it.
Gold prices for European investors sank to €1349 as Mario Draghi gave a final speech as European Central Bank chief handing over to successor Christine Lagarde, former International Monetary Fund head, at an event at the ECB's headquarters in Frankfurt, Germany.
The premium for gold delivered in China versus London prices rose to $8.87 today from the previous week when it was moving between $6 and $7.65, well below the historical average of $9 per ounce.
Hong Kong has fallen into recession and is unlikely to achieve any growth this year, the city's Financial Secretary said on Monday as it hit by five months of anti-government protests that erupted in flames again this weekend.