Gold Prices Lose $10 Pop as US Stimulus Talks Revive, Uzbek Central Bank Takes Profit
Thursday, 10/08/2020 15:19
GOLD PRICES rose and then lost $10 per ounce in London trade Thursday, rallying amid revived hopes of a new Covid stimulus deal from the US Congress before falling back against a rising US Dollar after the latest data showed a drop in the number of people claiming jobless benefits in the world's largest economy.
Stock markets rose alongside government bond prices, pushing longer-term interest rates down from their spike to multi-month highs.
Peaking just below $1900 per ounce as New York's markets opened, gold prices also briefly erased the week's earlier losses for UK and Eurozone investors before slipping back towards £1460 and €1610.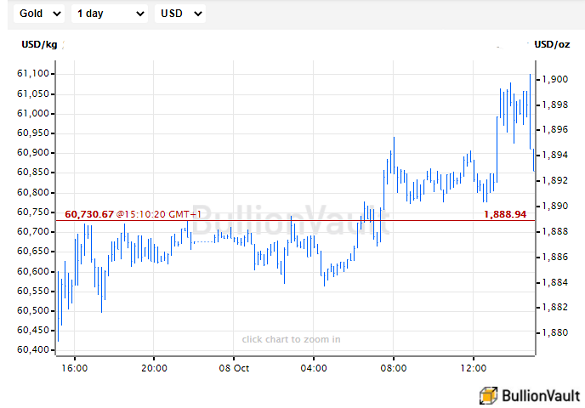 New gold-market data meantime showed central banks selling gold as a group net-net in August as prices set fresh all-time records, with only the 4th monthly liquidation of the last 3 years on
figures compiled and published
by the mining industry's World Gold Council.
Gold purchases were "concentrated amongst regular buyers" led by Kyrgyzstan, India and Turkey, the Council says, but "were comfortably outweighed" by Uzbekistan selling 32 tonnes to cut its total holdings below 300 tonnes, worth some 54% of the nation's total foreign exchange reserves.
That exposure is nearly 3 times greater than the global central bank average.
President Trump overnight continued his U-turn on rejecting all elements of the Coronavirus aid package when he left hospital Monday, saying instead that he now wants to see a "standalone" agreement for
another round of $1,200 stimulus checks
to US households.
House Speaker Nancy Pelosi meantime spoke with Trump's Treasury Secretary Steve Mnuchin about a standalone bill to try resucing the airline industry.
European recovery plays getting a bit much this morning. Rolls Royce up 20% on no news, IAG up 9% on no news, Lufthansa up 5% on no news.

— George "Grants To State & Local Gov NOW" Pearkes (@pearkes) October 8, 2020
"Fiscal support so far for households, businesses, and state and local governments might not provide sufficient relief to these sectors," said
"many participants" at the US Federal Reserve
's latest monetary policy meeting, notes from that discussion showed Wednesday.
August's central-bank net selling clipped the official sector's 2020 addition to 378 tonnes of gold so far, equal to around 18% of global gold mining production over the same period.
Separate WGC figures meantime said today that
gold-backed ETFs
traded for investment on the stock market have grown to need an extra 1,000 tonnes of bullion so far in 2020 as inflows have set new all-time records by value amid the global coronavirus pandemic.