Gold Prices Try $1900 Yet Again as Miners Go Shopping, GBP Whips on EU Lawsuit and Brexit Talks
Thursday, 10/01/2020 14:32
GOLD PRICES pushed up through $1900 per ounce in London trade Thursday at the third time of trying this week as Western stock markets cut earlier gains, commodity prices fell, and a flurry of corporate activity continued among precious-metal mining stocks.
Thursday's rise in Dollar gold prices came after the metal lost 3.6% across September – its steepest 1-month drop since June 2018.
That 4.2% drop in gold prices preceded the now 2-year uptrend starting in July 2018, with the 3.4% plunge of November 2019 then completing a small correction from last summer's 18.0% surge – gold's steepest 3-month gain of the last 9 years.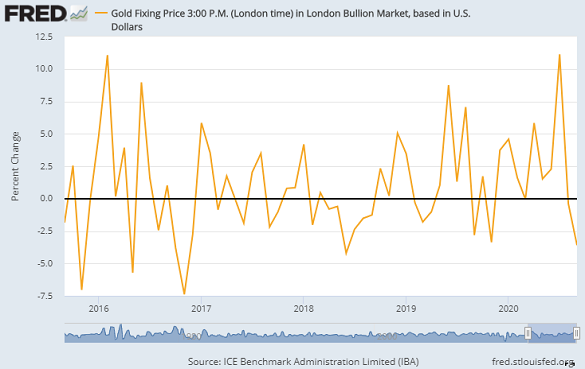 With gold priced in the Dollar today reaching $1904 – still 7.9% below start-August's current all-time record high – silver failed to follow as industrial and energy commodities slipped, holding below $23.60 per ounce.
Euro and most notably
UK gold prices in Pounds per ounce
whipsawed meantime, touching then losing and then regaining 1-week highs at €1621 and £1475 respectively as the European Union announced that it is taking the British government to court for breaking their EU Withdrawal Agreement but UK "insiders" said a Brexit trade deal is now in sight ahead of end-December, when the world's 6th largest national economy will finally exit the largest single economic bloc.
"Sure it was a bit of madness," the
FT's political correspondent
quotes an un-named Number 10 insider, "but it has totally changed the dynamics of the negotiations. They know we're serious about no deal now."
World No.5 gold mining firm Kinross (TSX: K) said overnight it's
buying a controlling stake
in Alaska's Peak Gold project for around US$95m.
Shandong Gold Mining (SHA: 600547) – the 2nd largest producer in No.1 gold-mining nation China - said on Wednesday it is buying Hengxing Gold Holding Co. for shares worth US$387m, gaining control of central Xinjiang region's Gold Mountain project.
Meantime in India – the No.2 private-gold buying nation behind China, but where
demand has collapsed this year
– independent think-tank the India Gold Policy Centre of IIM Ahmedabad (IGPC-IIMA) today proposed a survey of 200,000 households covering 25 states to understand better the gold consumption and usage behavior of Indian households.
Gold is "currently the third largest contributor to [India's] trade deficit,"
says CNBCTV-18
. "In addition, jewellery purchases tend to take gold out of the money circulation loop."
India is already running "the
largest epidemiological study anywhere
on Covid by far," says Ramanan Laxminarayan of the Center for Disease Dynamics, Economics and Policy, in New Delhi, speaking to the
LA Times
.
While jewelry and retail-product gold demand has sunk in India during 2020's Covid lockdowns and economic slump,
so-called "digital gold" providers
led by apps Google Pay and Paytm report 40-50% growth in use of their platforms.
Digital payment apps more broadly are
"seeing a second growth spurt"
in India after November 2016's shock demonetisation of larger banknotes, claims a new fintech report from consultancy Matrix Partners.