Trump-China Row Sees Dollar Up, Gold Price Down After GLD Expands Fast, Comex Bulls Set New Record
Monday, 9/30/2019 15:03
GOLD PRICES fell Monday as the Dollar rose and world equity markets struggled as analysts downplayed the threat of Donald Trump's White House banning Chinese businesses from listing on US stock exchanges, writes Atsuko Whitehouse at BullionVault.
Spot gold prices slid 0.8% to touch 7-week lows at $1484 per ounce as the US Dollar index – tracking the greenback against a basket of other currencies – hit a new high for 2019.
That curbed the drop in gold for non-US investors, holding the Euro bullion price little changed at €1363 and the
UK gold price in Pounds per ounce
at barely 1-week lows beneeath £1207.
Silver prices
lost 1.9% to $17.20 per ounce while platinum fell harder, down 2.8% to $903 per ounce.
Palladium in contrast hit a record peak, surpassing $1700 per ounce after having risen 2.4% last week on continued reports of tight supply for the metal, primarily used in auto-catalysts for gasoline engine vehicles.
"It's a strategy that we have seen in the past – keeping the pressure very high and then settling for whatever deal is possible."
Trump repeated his anti-China rhetoric Monday morning however, just ahead of tomorrow's week-long Chinese holidays to mark the 70th anniversary of Mao Zedong founding the People's Republic after his 1949 victory over the Kuomintang nationalists forced Chiang Kai-shek to leave the mainland for Taiwan.
US-China trade talks are then scheduled to resume after 'Golden Week'.
....place in TRADE, it's taking shape in Military Competition." Johnathan Ward, author and China expert. We are winning, and we will win. They should not have broken the deal we had with them. Happy Birthday China!

— Donald J. Trump (@realDonaldTrump) 30 September 2019
Japan's Nikkei share index today completed its strongest month in a year as consumers crammed in a last-minute shopping spree to save 2% on big-ticket items ahead of a consumption tax-hike starting Tuesday in Asia's second-largest economy.
Hong Kong authorities said overnight they arrested at least two high-profile activists in the 17 weekends of now violent protests against Beijing's rule.
China's state-owned media said on Sunday that even news of measures like delisting Chinese companies from American stock exchanges "is expected to have
significant repercussions
for the Chinese and US economies, as well as their companies, in the future."
China's manufacturing activity rose more than expected in September, data showed Monday.
Latest data from the gold derivatives market meantime show that hedge funds and other leveraged speculators in Comex gold futures and options grew their bullish betting to the largest on record last week.
Total open interest in Comex gold derivatives also set a new record however, sustaining the 1 million level constantly since end of June across futures and options.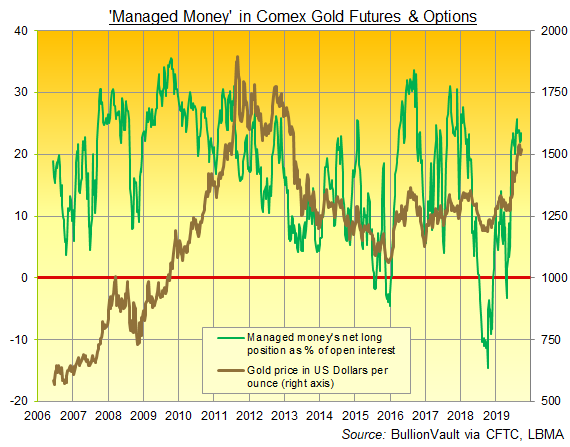 That capped the Managed Money's net long position below 23.5%, down from early August's peak of 25.6% and markedly below the plus-30% levels set during the global banking crisis a decade ago and again between the UK's Brexit referendum shock and Trump's election as US President in 2016.
Despite a small outflow Friday, the largest gold bullion backed ETF, the SPDR Gold Trust (NYSEArca:GLD), saw investors grow their holdings last week at the fastest pace since mid-June at 3.2%.
That required an extra 28.7 tonnes of gold to back the GLD's price, taking the total above 923 tonnes of bullion.
The second largest US
gold ETF
, the iShares Trust (NYSEArca: IAU) also increased in size last week, needing to add 5.3 tonnes to reach a record 339 tonnes.
Oil meantime fell Monday morning even as Mohammed bin Salman, the Crown Prince of Saudi Arabi, warned crude prices could skyrocket to
an "unimaginably high number"
unless the US and its allies work to contain Iran's aggression in the region.