Gold Prices Rise After ECB Restarts QE Money Stimulus
Thursday, 9/12/2019 13:55
GOLD PRICES rose on Thursday after the European Central Bank eased monetary policy for the world's second-largest economic bloc.
Running monetary policy for the 19-nation Eurozone of 330 million citizens, the ECB cut its deposit rate to -0.50% as widely expected, and re-started QE asset purchases at a monthly pace of €20 billion.
Gold priced in Euros jumped to €1391,up 2% after the ECB decision while the Dollar price hit $1521.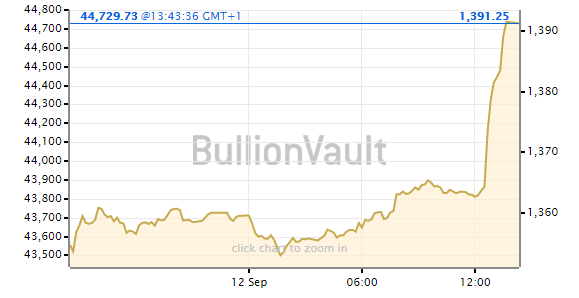 The likelihood of 2019 ending with US Fed interest rates 3 cuts lower at 1.50% have sunk from 4-in-10 to below 1-in-4 according to betting on CME derivatives.
That's now equal to the chances of the Fed cutting just once before New Year says the CME's FedWatch tool.
The UK gold price in Pounds per ounce meantime recovered from this week's losses on Thursday afternoon hitting £1236 as the UK government continued to refute a Scottish court's decision that shutting Parliament ahead of Brexit is unlawful.
"Sterling volatility is at emerging market levels," said Bank of England governorMark Carney earlier this week, "decoupled from other advanced economy [currencies] for obvious reasons.
"A variety of other indicators show financial markets are going to move substantially in one way or another depending on the outcome of Brexit."
Overnight, Shanghai premiums slipped back to $10 per ounce over and above comparable London quotes on Thursday, only a little above the long-term average incentive for new bullion imports into China, the world No.1 gold consumer nation.
In No.2 consumer nation India, and even with the seasonally heavy festive season due to begin in the next few weeks, "A drop in gold price will not help revive demand," reckons Surendra Mehta of trade association the IBJA.
"Economy needs to revive for creating demand in the market, not only for gold but for everything. People have no disposable funds in their hands to splurge on gold."
India's Finance Minister Nirmala Sitharaman has been widely mocked this week for saying that a sharp slowdown in new vehicle demand is due to millennials preferring to use ride-hailing apps Ola and Uber.
Neither the SPDR Gold Trust (NYSEArca: GLD) or Blackrock iShares gold ETF (NYSEArca: IAU) saw any change in investor holdings yesterday. Nor did the largest silver-backed ETF, the iShares SLV.