Gold Prices Bounce as Stimulus Hopes Grow, Brexit Looms
Monday, 9/09/2019 13:43
GOLD PRICES edged higher amid mixed economic data from around the world on Monday, as hopes rose that central banks will try to fight off a global recession with monetary stimulus, writes Atsuko Whitehouse at BullionVault.
Gold prices rallied 0.3% to $1511 per ounce while the US Dollar index, which tracks the greenback against a basket of other currencies, fell again from Friday's lows.
Data on Sunday showed China's exports unexpectedly fell in August as shipments to the United States plummeted, pointing to further weakness in the world's second-biggest economy.
The People's Bank of China said it will cut the amount of cash banks must hold as reserves to the lowest level since 2007, injecting liquidity into the economy.
"To me, that's
a sign of panic
at the PBOC," said Andrew Collier, managing director at Orient Capital Research on Monday.
"Clearly, they feel like the tax cuts aren't doing enough to generate economic growth and so...now they're resorting to the monetary stimulus."
In Zurich on Friday, Jerome Powell, chairman of the US Federal Reserve,
repeated his mantra
from this summer that the Fed will continue to "act as appropriate to sustain the expansion" after weaker than expected US jobs data, published earlier on the day.
German exports rose more than expected on data published Monday, but that follows a run of weak numbers pointing to a recession in the July-September quarter.
The European Central Bank is widely expected to announce new stimulus when it meets and speaks this Thursday, the final such meeting for current ECB President Mario Draghi.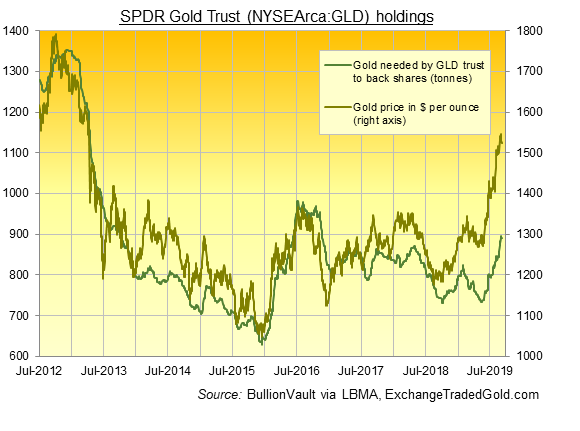 Giant gold-backed ETF the SPDR last week expanded by 1.4% to its largest size in nearly 3 years as investor demand grew the number of shares in issue.
The GLD has now swollen 6 weeks in a row.
In the meantime, China's gold reserves grew for a 9th straight month in August, new data showed this weekend.
In tonnage terms, August's inflow was 5.91 tonnes, following the addition of about 94 tonnes in the previous eight months, up to 1,936.5 tonnes
according to the latest release
by the World Gold Council.
Gold prices for UK investors today fell 0.2% to £1224 per ounce – down 4.7% from the new historic recorded last Tuesday – while Sterling held last week's gain vs. major currencies.
The five-week suspension of Parliament will begin later on Monday, after Parliament passes a bill forcing the government of pro-Brexit prime minister Boris Johnson to seek an extension to the 31 October exit date from the European Union, instead of leaving with no deal in place.
Ministers have said they will test what the law in fact requires of them.
Gold prices for European investors meantime rallied 0.2% to €1369 per ounce, down 3.1% from the record high hit at €1413 last week.
Guy Verhofstadt, the European Parliament's Brexit co-ordinator, says "Yet another extension for Brexit is unacceptable, unless the deadlock in London is broken".