Gold Climbs Higher as Germany Edges Towards Recession, and Yield Curve Inverts for US & UK
Wednesday, 8/14/2019 14:20
GOLD PRICES rose on Wednesday as shrinking German economy outweighed the Trump tariff relief while yield curves inverted in the US & UK to spread recession fear, writes Atsuko Whitehouse.
Spot gold increased by 1% to $1515 per ounce while European shares fell as Germany's GDP shrank by 0.1% between April and June, fuelling fears of a recession for Europe's largest economy.
Gold climbed 1.4% to $1534 per ounce on Tuesday but fell 3.1% to $1486 after President Trump announced delays in imposing some tariffs until 15th December 2019.
The 10-year German bond yield dipped to -0.624%, a fresh record low that takes its fall this year to almost 90 basis points as the German economy slipped into negative growth.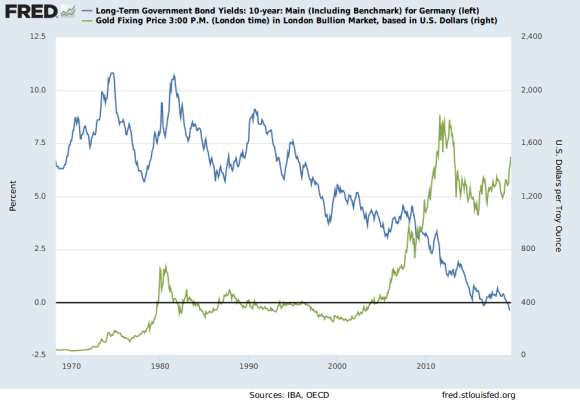 Growth across the Eurozone halved in the last quarter, from 0.4% to 0.2% as Germany's contraction held the region back, while industrial production plunged by the most in more than three years in June.
"The German GDP numbers kicked off the day badly for European markets, outweighing the limited positive impact from the Trump tariff relief," said Chris Beauchamp, chief market analyst at IG Group in London.
President Donald Trump on Tuesday backed off his 1st September deadline for 10% tariffs on remaining Chinese imports, delaying duties on cell phones, laptops and other consumer goods, in the hopes of blunting their impact on US holiday sales.
"We're doing this for the Christmas season," Trump told reporters as he left New Jersey for an event in Pittsburgh.
Chinese Vice Premier Liu He spoke with US Trade Representative Robert Lighthizer and US Treasury Secretary Steven Mnuchin on Tuesday evening, China's Ministry of Commerce said in a statement. It also said, "Both sides agree to talk again on the phone within two weeks."
Asian stocks rallied Wednesday after the US decision to postpone some tariffs on Chinese goods but pared the gains after new data about China's retail sales and industrial production came in worse than expected, with industrial output growth cooling to a more than 17-year low.
The gap between 2 and 10-year yields dropped below zero in the US and UK after a wave of soft economic data globally.
US 10-year yields dropped eight basis points to 1.62% Wednesday lunch time, while those on 2-year Treasuries fell three basis points to 1.63%. 30-year yields fell to a record low. In the UK, 10-year yields dropped two basis points to 0.475%, while those on 2-year bonds rose one basis point to 0.478% even as inflation reported today jumped above the Bank of England's 2% target.
Hong Kong airport has resumed operations after a night of chaos which saw protesters clash with riot police as Chinese officials condemned the disruption that paralysed the international hub as "near-terrorist acts".
After hundreds of flights were cancelled this week when protesters flooded the terminal buildings, the Airport Authority said it had obtained a temporary injunction banning protesters from entering certain areas.
President Trump said on Tuesday that the situation in Hong Kong was tricky but he hoped it would be resolved "for liberty" without anyone getting hurt or killed. He then tweeted:
Our Intelligence has informed us that the Chinese Government is moving troops to the Border with Hong Kong. Everyone should be calm and safe!

— Donald J. Trump (@realDonaldTrump) August 13, 2019
Investing in the giant SPDR Gold Trust ((NYSEArca: GLD) – the world's largest gold-backed ETF fund – ended Tuesday losing 11.1 tonnes (1.3%) of its holding to 839 tonnes. It was the biggest 1-day liquidation since 1st April 2019. In contrast, Silver's largest exchange-traded trust fund, the $5bn iShares Silver Trust (NYSEArca: SLV), yesterday saw one of the heaviest 1-day inflow of 1.7%.
Silver prices rose 1.3% to $17.20 per ounce on Wednesday after reaching $17.51, the highest in 18 months during the previous session.
Platinum in the meantime, edged down to $851 per ounce.