Gold Drops as Fed Falls Short of Dovish Market Hopes while Central Banks Gold Demand Jumps to Record High in H1 2019
Thursday, 8/01/2019 14:31
GOLD PRICES fell after the Fed's first rate cut in a decade amounted to a "mid-term policy adjustment" whilst latest data from the World Gold Council shows record-breaking central bank gold purchasing in the first half of 2019, writes Atsuko Whitehouse at BullionVault.
Spot gold slipped 0.6% on Thursday morning to a 2-weeks low at $1404 per ounce after dropping 1.3% within one hour as Jay Powell, the Fed chairman answered questions at the press conference.
Dollar index (DXY), measuring the value of the dollar against a basket of six foreign currencies, rose 0.2% to 8-week high this Thursday lunch time after reaching a new 2019 high and 27-month high in the previous session.
The US Federal Reserve cut rates by 25 basis points as expected but Mr Powell disappointed investors by calling the move a "mid-cycle adjustment to policy" rather than the start of a more aggressive cycle of monetary easing.
Betting that the Fed won't cut rates by New Year 2020 has increased nearly three-fourths from a week ago to 16.9%, according to CME's FedWatch tool. Before the Fed meeting, markets were betting on three more interest rate cuts by the end of 2019.
President Donald Trump immediately tweeted "Powell let us down" with the size of the interest rate cut on Wednesday.
....As usual, Powell let us down, but at least he is ending quantitative tightening, which shouldn't have started in the first place - no inflation. We are winning anyway, but I am certainly not getting much help from the Federal Reserve!

— Donald J. Trump (@realDonaldTrump) July 31, 2019
"That hawkish interpretation would be worth some weakness through $1400 but is not a game changer for Gold to revert to bear-market status," says the latest technical analysis of gold prices from Canada's Scotiabank.
"As 1) Trade/geopolitics - arguably the Feds new reaction function - has not been resolved, 2) A large Fed disappointment will inject macro fear & fresh Gold inflows, 3) "Gold is smart" & technical repricing aligned with a cyclical shift in Fed policy should be respected."
US-China trade talks ended Wednesday with few signs of concrete progress. The negotiators plan to meet again in early September.
Central banks acquired a record 374 tonnes of gold in the first six months of this year, according to the latest data published on Thursday by World Gold Council (WGC).
Poland, China and Russia led the largest purchase of gold on record by official sectors in the first half of a year. Central bank's gold demand accounted for nearly one-sixth of total demand, which jumped to a three year high of 2187 tonnes.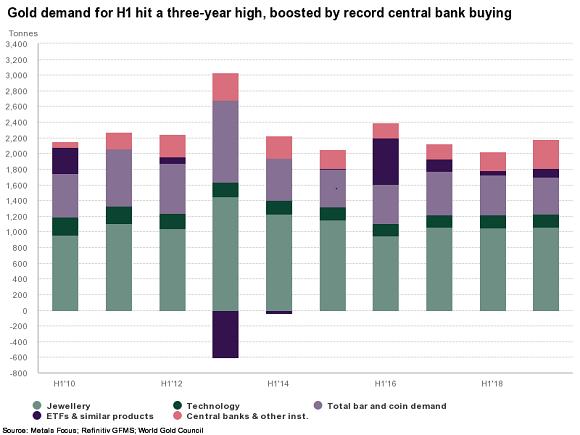 The WGC expects "looser monetary policy and geopolitical uncertainty — ranging from the China-US trade war, to Iran and Brexit — to keep pressure on central banks to build gold reserves and on investors to seek out gold-backed ETFs, although higher prices could hit consumer demand."
Bank of England held interest rates at 0.75% as it cut the growth outlook for 2020 from 1.6% to 1.3% on Thursday while warning that a no-deal Brexit would hit the economy and trigger a further drop in the value of the pound.
Gold prices for UK investors edged down 0.2% to £1160 per ounce but still only 2.8% off from the highest recorded in September 2011, as Sterling decreased 0.4% against the US dollar, the weakest in 30-months and falling 4.7% in July.
The Euro gold price also fell 0.2% to €1273 while the euro declined 0.4% against the US dollar, the weakest in more than 2 years.