Gold Price Within 1% of Multi-Year GBP and EUR Highs as Trump Congratulates New UK PM Johnson
Tuesday, 7/23/2019 13:29
GOLD PRICES slipped against the Dollar but rose against the Euro and British Pound on Tuesday as the UK's Conservative Party chose Brexit campaigner and former Foreign Secretary Boris Johnson as its new leader and therefore the country's Prime Minister.
Gold priced in the Dollar held little changed for the week so far at $1426 but came within 1% of last week's new multi-year highs for UK and Euro investors, reaching £1145 and €1276 respectively.
London's FTSE All Share rose 0.5% but lagged other European equity markets as the Pound slipped after rallying half-a-cent against the Dollar ahead of the Tory leadership news.
Most European government bond prices rose, edging borrowing costs lower and cutting Italy's 10-year
BTP yield spread
over and above comparable German rates back below 2 percentage points for the first time since May.
"I know that we can do it and the people of this country know we can do it," the UK's new Prime Minister Johnson said, going on to explain that "it" means "Deliver Brexit, unite the country and defeat [opposition Labour leader] Jeremy Corbyn."
Congratulating Johnson on Twitter, US President Donald Trump earlier repeated his calls for the Federal Reserve to "cut deeper" when it meets to discuss interest rates next week.
....as we have done, it could have been soooo much better. Interest rate costs should have been much lower, & GDP & our Country's wealth accumulation much higher. Such a waste of time & money. Also, very unfair that other countries manipulate their currencies and pump money in!

— Donald J. Trump (@realDonaldTrump) July 22, 2019
Crude oil eased back, dropping within $1 of last week's 1-month lows, despite fresh Middle East tensions between the UK and Iran, plus other comments from Trump.
The world's largest gold-backed investment trust, the giant SPDR Gold product (NYSEArca: GLD), yesterday expanded for a 4th session running, its longest run of daily investment inflows since June 2017.
That took the quantity of gold bullion bars needed to back the GLD's value up to 825 tonnes, its largest in 13 months.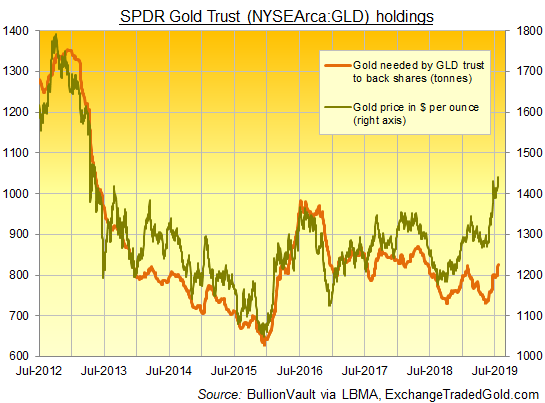 India meantime on Tuesday
"firmly rejected" Trump's claim
that Prime Minister Narendra Modi had asked him to "mediate" with Pakistan in the decades' long dispute over Kashmir.
Boosted by the higher duty's impact on all domestic gold prices, "Indians are selling their old jewellery to take advantage of a rally in local gold prices," says the Economic Times, quoting dealers in Mumbai's Zaveri Bazaar who say re-selling from consumers has risen 10-15% from this time last year.
With seizures of smuggled gold jumping since import duty was raised to 10% in 2013, officials at Delhi's Indira Gandhi International Airport on Saturday arrested a traveller from South Korea caught with $348,000-worth of gold
hidden in her luggage
.
Neighboring Afghanistan today asked the White House to clarify other comments Trump made Monday – again while hosting Pakistan's Prime Minister Imran Khan – that "If I wanted to win that war, Afghanistan would be wiped off the face of the Earth. [But] I
don't want to kill 10 million
people."
Iran meantime claimed it has "intercontinental drones" ready for "a long-haul mission", and also said that a UK-registered oil tanker it seized in the Strait of Hormuz last week – leading London to call for an international alliance of escort craft in the Persian Gulf – had "hit another vessel".