Gold Prices Steady after Reassuring Chinese Data, Comex Cuts Bullish Bet
Monday, 7/15/2019 14:32
GOLD PRICES held steady on Monday as China's economic growth data showed the economy stabilizing and Comex speculators cutting their bullish bets for the first time in 7 weeks, writes Atsuko Whitehouse at BullionVault.
Spot gold was flat Monday lunch time at $1414 per ounce, while the US dollar index – a measure of the US currency's value versus its major peers – declined 0.05% to its lowest level in more than two weeks.
Silver prices rose 0.7% to $15.33 per ounce, almost a 2-week high, while platinum prices went up 0.9% to $841 per ounce, more than 1-week high.
Hedge funds and other leveraged speculators in Comex gold futures and options last week reduced their bullish betting on gold for the first time in 7 weeks, according to the data published by US regulator the Commodities Futures Trading Commission (CFTC).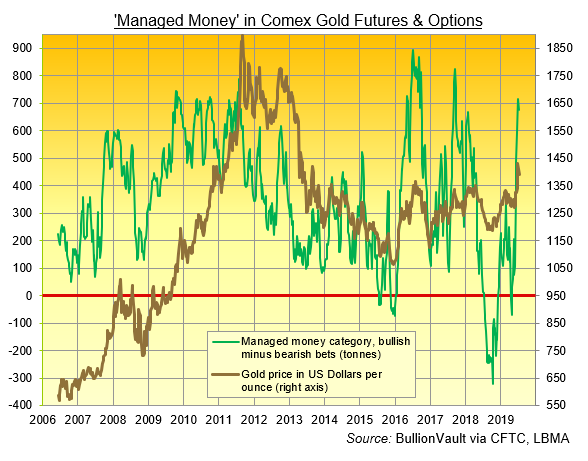 The size of open interest in gold derivatives, however, exceeded 1,000,000 for 3 weeks in a row for the first time in 13 years.
The largest gold bullion backed ETF, the SPDR Gold Trust (NYSEArca:GLD), saw investors add 3.6 tonnes last week to reach 800 tonnes of bullion in total. This was the second week in a row which saw an increase in holdings.
Chinese industrial production and retail sales for June beat all estimates, however, GDP growth was only 6.2% last quarter, the weakest since the data series began in 1992, according to data released on Monday.
"The monthly data were better than expected... (But) we are sceptical of this apparent recovery given broader evidence of weakness in factory activity," said Julian Evans-Pritchard, senior China economist at Capital Economics.
"Looking ahead, we doubt that the data for June will mark the start of a turnaround."
Physical gold buying stalled in top Asian hubs last week as consumers sold back bullion to cash in on a steep price rally.
"More clients have been trading-in gold bars they bought some years ago for a profit recently," said a veteran trader at Lee Cheong Gold Dealers in Sheung Wan, Hong Kong.
"Many retailers will wait for prices to come down to shop for a dowry unless they are in a hurry."
Hong Kong saw gold prices hit HK$11,079 on Friday which was amongst the highest levels since 2013.The price in HK$ has gained 6.2 per cent in the past month and about 11 per cent since the beginning of this year.
The World Gold Council, the market development organisation for the gold industry, also reported that physical-traded gold contracts on the Shanghai Gold Exchange (SGE), declined in May 2019. Trading volume of Au9999 amounted to 371 tonnes in May. This was a 115 tonne decline year-on-year and the fourth lowest monthly accumulated volume in three years.
In contrast, the trading volume of Au(T+D), a margin-traded and the most liquid gold contract traded on SGE, reached 1276 tonnes in May 2019, 286 tonnes higher year-on-year.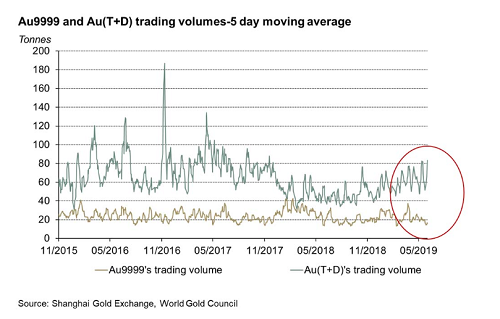 "In light of the stock market turbulence and weakening currency, Chinese investors looked to diversify, driving the volume of Au(T+D) – the more investor-friendly gold contract (it requires only 7% of the contract's value) – significantly higher," said Ray Jia, Research Manager at World Gold Council.
"On the other hand, May's AU9999 trading volume was weak due to a large industry inventory that had built up earlier in the year," he continued.
Gold prices for European investors slipped down to €1254 per ounce with EU foreign ministers meeting to discuss the Iran nuclear deal in Brussels on Monday.
UK gold prices edged up to £1127 per ounce as the British pound decreased 0.1% after recording 10 consecutive weekly loss last week as the market is increasingly concerned over the outcome of the ongoing Conservative Party leadership battle. The result of the leadership election is expected to be announced on 22nd July 2019.