Gold Prices Extend US Fed's 'Cut Coming' Gains, UK Gold Hits 8-Year Peak
Thursday, 7/11/2019 12:57
GOLD PRICES held onto yesterday's near-$30 jump in Asian and London bullion trading on Thursday, moving above $1420 per ounce after the chairman of the US central bank signalled rate cuts are about to begin.
Euro gold prices came within 5 of last week's new 6-year highs, touching 1266 per ounce.
The UK gold price in Pounds per ounce touched a new 8-year high above £1140 per ounce, up 13.1% from New Year's Eve.
Western stock markets slipped after Asia followed Wall Street to close slightly higher overnight.
Major government bond prices also eased back, cutting the cost of owning 10-year German Bunds to 0.25% per annum after Berlin's debt set a new negative record yield of -0.40% last week.
Betting however rose on a half-point rate cut from the US Federal Reserve at this month's meeting, pricing it near a 1-in-3 chance against a smaller quarter-point cut according to data from US derivatives exchange the CME.
Last month's plunge in bond yields worldwide saw gold-backed ETF trust funds grow 15% by value, new analysis from the mining-industry's World Gold Council said Thursday, the "largest monthly increase in 7 years.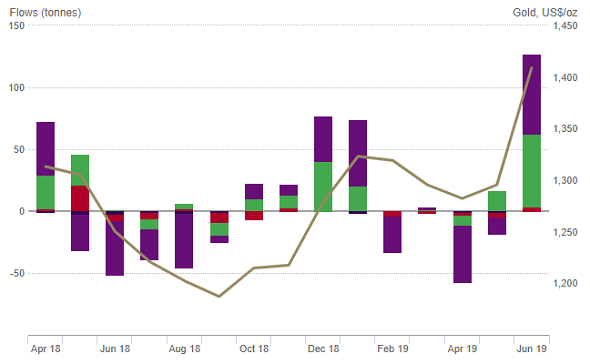 Source: World Gold Council
"All regions experienced inflows" in June, the WGC says, with percentage growth led by WisdomTree's ETFS Physical Swiss Gold fund (LON: SGBS) more than doubling in size.
Without confirming the size of July's cut, US Fed chair Jerome Powell yesterday told Congress that he thinks cuts are needed to short-term interest rates.
Powell also said social-media giant Facebook's payments system Libra "cannot go forward" until "serious concerns" are addressed, and said he won't quit as Fed chair if asked to resign by President Trump - now a vocal critic after nominating him only in 2017.
"Powell's testimony made sure that there is a rate cut on the cards this month," Reuters quotes Singapore bank OCBC's economist Howie Lee.
"He has provided a loser monetary policy base for gold prices gain further."
New data today said inflation in Germany was stronger than analysts expected in June, but rising to 1.5% the annual rate badly lagged the European Central Bank's target of 2.0%.
Crude oil meantime extended its rally, reaching $67.60 per barrel of Europe's Brent benchmark, after the British Royal Navy said it prevented Iran from seizing a UK tanker passing through the Persian Gulf.
The Bank of England said this morning it has seen "some improvement in the preparedness of the UK economy for no-deal Brexit," now scheduled for 31 October.