Gold Price Pops $15 as Powell Tells Congress Fed Rate Cut Coming
Wednesday, 7/10/2019 13:52
GOLD PRICES popped $15 higher Wednesday lunchtime in London, rallying from near the cheapest since mid-June as US Federal Reserve chairman Jerome Powell signaled his team will cut interest rates at their end-July meeting in his semi-annual testimony to Congress.
With gold prices touching $1410 per ounce, global stock markets also rose after struggling to hold flat, snapping a 3-day losing streak from last week's new 18-month highs in the MSCI World Index.
Bond prices also rallied on the release of
Powell's opening remarks
to Congress, pulling 10-year US Treasury yields down from their highest in a month at 2.10%.
Betting on the US Fed's 31 July interest rate decision earlier saw a possibility of 'no change' – re-appearing for the first time since mid-June – priced as a 1-in-25 shot against the consensus expectation for a cut of one-quarter point.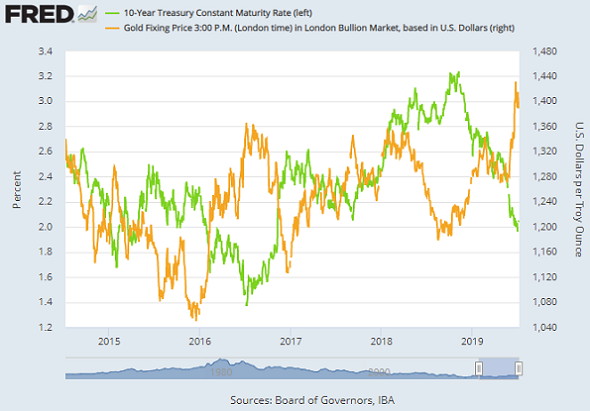 "If the Fed ends up delaying the much anticipated interest rate cut later this month," says precious-metals strategist Jonathan Butler at Japanese conglomerate Mitsubishi, "in part to show its political independence from the White House, yields could rally and put downwards pressure on gold."
Cleveland Fed President Loretta Mester, a voting member of Powell's committee this year, last week said she
would need to see "a few weak job reports
, further declines in manufacturing activity" before believing "that the base case is shifting" to warrant cutting Dollar interest rates.
June's US jobs market saw solid growth on the official BLS estimate, but was much
weaker-than-expected
according to payroll services provider ADP.
New inflation data Wednesday said China's factories saw zero change in producer prices last month from June 2018, while Japan's corporate goods prices showed a drop year-on-year, also lagging analyst forecasts for a rise.
Crude oil meantime jumped over 2%, regaining a $65 handle for a barrel of European benchmark Brent, after new data Tuesday showed a
surprise drop in US stockpiles
and Tehran said the UK's seizure of an Iranian oil tanker near Gibraltar for breaching European Union sanctions
"will not go unanswered"
.
Having spurred a
Twitter attack from President Trump
on current UK Prime Minister Theresa May, Britain's ambassador to Washington
resigned Wednesday
after her likely replacement Boris Johnson failed to back him in the row over leaked memos calling the Trump White House "faction-riven and inept".
With Hong Kong leader Carrie Lam declaring her plans for an extradition bill with mainland China
"dead...a total failure"
after last month's violent protests, anti-government messages
now smother the city
on sticky notes calling for further resistance to control from Beijing.
Over on the mainland, Shanghai gold prices held $13 per ounce above comparable London quotes, offering a solid incentive for new imports of
gold bullion bars
into China – the metal's No.1 mining, importing and consumer nation.
Gold
smuggling into India may reach 200 tonnes
this year and 300 tonnes in 2020 – over one-third of net supplies to the world No.2 consumer nation – as a result of Narendra Modi's BJP government
hiking import duty
to 12.5% in its Budget, according to unnamed industry figures quoted by the
Business Standard
.