Gold Price Jumps, Bond Yields Collapse, as ECB's Draghi Vows New Euro Stimulus
Tuesday, 6/18/2019 13:46
GOLD PRICES rose 1.0% against the Dollar but jumped to new multi-month highs for Euro and UK investors on Tuesday after Europe's chief central banker said more monetary stimulus is coming.
Gold priced in the Dollar came within $5 of Friday's top at $1358 as world stock markets rose on the back of a fresh collapse in global interest rates.
"Looking forward, the...outlook remains
tilted to the downside
," said European Central Bank president Mario Draghi in a speech to the ECB Forum on Central Banking in Sintra, Portugal, pointing to "prominent risks [from] geopolitical factors [such as] protectionism and vulnerabilities in emerging markets.
"In the absence of improvement...additional stimulus will be required," Draghi said, telling his audience that the ECB's Governing Council has already discussed boosting its Asset Purchase Program – aka Quantitative Easing,
paused last December at €2.7 trillion
– as one way to try and raise inflation back to the 19-nation central bank's 2.0% target.
So-called 'core' Eurozone inflation slowed to 0.8% per year in May, new data said Tuesday morning.
Germany's benchmark Bund yield sank to new all-time negative lows on Draghi's comments, costing new buyers 0.32% per annum to lend their money to Berlin.
The gold price in Euros jumped to €1205 per ounce, the highest since the spike of March 2017 and nearly 20% above last September's 33-month lows.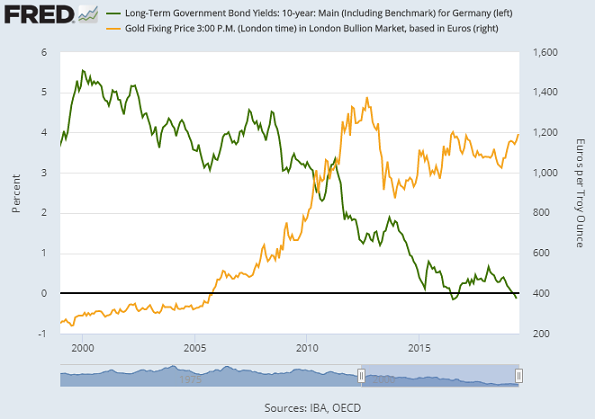 All other Eurozone government bond prices jumped too, driving 10-year yields 0.2 percentage points lower on Greece and Italy's debt.
France's borrowing costs sank to a new all-time historic low of 0.0% per annum on the 10-year OAT.
Ahead of today and tomorrow's US Federal Reserve policy meeting, 10-year US Treasury yields meantime sank to 2.02%, the lowest borrowing cost since Donald Trump won the White House in November 2016.
Mario Draghi just announced more stimulus could come, which immediately dropped the Euro against the Dollar, making it unfairly easier for them to compete against the USA. They have been getting away with this for years, along with China and others.

— Donald J. Trump (@realDonaldTrump) 18 June 2019
UK Gilt yields also fell to 2.5-year lows as the British Government sold a new chunk of 10-year debt at a borrowing cost of
less than 0.9% per year
.
With former London mayor and ex-foreign secretary Boris Johnson the clear leader, the Conservative Party's 160,000 members will make the final decision – putting the winner into 10 Downing Street as Prime Minister – in late July.
To see the UK leave the European Union, 63% of Tory members would accept Scotland leaving the United Kingdom, while 61% believe "significant damage" to the UK economy is an acceptable price for Brexit – now delayed until end-October – and 59% would take Northern Ireland leaving the Union, and 54% would accept the Conservative Party "being destroyed" according to a survey of fewer than 1,000 respondents published by
opinion pollsters YouGov on Tuesday
.
Police in Germany meantime said a known far-right terrorist has been arrested for this month's murder of pro-migrant politician and Angela Merkel ally Walter Lübcke – head of the regional council in the central German city of Kassel – in what may be the country's
first political assassination since the 1970s
.
Overnight in Asia, Tokyo shares fell 0.7% on average but Shanghai rose 0.4% and Hong Kong's stock market added 1.0% as the city's chief executive
Carrie Lam made a "most sincere" apology
for trying to introduce an extradition agreement with mainland China, spurring weeks of protests still ongoing.
Crude oil held flat in contrast even as the Pentagon approved sending
a further 1,000 US troops to the Gulf of Oman
amid Washington's worsening political row with Tehran over footage apparently proving that Iranian forces caused this month's series of explosions on oil tankers in the region.
"This is happening for one reason," said a European Union special advisor on foreign policy to the BBC this morning – "
the United States has violated
the Joint Comprehensive Plan of Action, meaning the Iran deal.
"Washington...you're not living up to your side of the bargain," said Nathalie Tocci.