Shanghai Gold Price Hits 6-Year High, Move to $1700 'Will Quickly Follow' Break of $1400
Thursday, 6/13/2019 13:46
GOLD PRICES held a $4 loss for the week so far in London on Thursday, trading at $1336 as Western stock markets rose and major government borrowing costs dropped further on the bond market, setting fresh all-time negative lows on German Bunds at -0.25% per annum.
The Dollar held steady against other currencies, helping keep the Euro gold price above last week's close of €1183.
The UK's minority-government Conservative Party meantime began voting on a new leader and therefore Prime Minister, with
UK gold prices in Pounds per ounce
trading just £5 below last week's 31-month high at £1057.
Yuan gold prices today fixed above ¥300 per gram for a second time in Shanghai, marking the highest cost of bullion in the world No.1 mining, importing and consumer nation since
April 2013's global gold crash
.
Compared to quotes in London, Shanghai's benchmark price offered a $13 per ounce incentive for new imports, some 50% above its historic average.
Both the gold price in Yuan and the
Shanghai premium
have risen sharply after bottoming at multi-month lows last summer.
On a rolling 1-month basis, Yuan gold prices show a solidly negative correlation with the Shanghai premium, averaging -0.58 over the last 15 years.
That figure would read +1.0 if the Yuan price and Shanghai premium moved in lock-step together, or -1.0 if they moved perfectly opposite.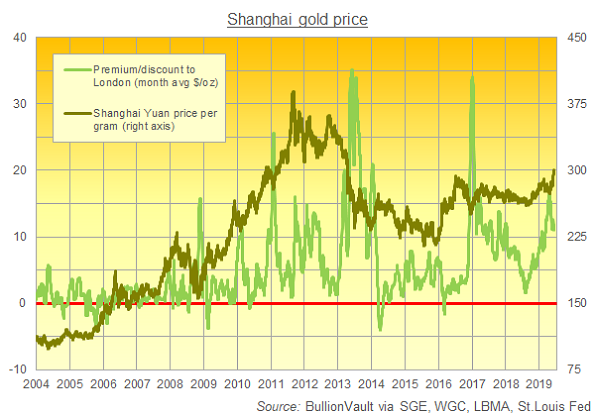 "For me the simplest trade, one of the best trades, is gonna be gold...[It's] my favorite for the next 12-24 months," said hedge-fund manage Paul Tudor Jones to Bloomberg yesterday.
"If it goes [up] through $1400, it goes to $1700 rather quickly."
No.7 among this year's highest-earning hedge fund managers according to Forbes, and with a personal fortune estimated at $5.1bn, Jones founded his Tudor Investment Corporation in 1980.
With US interest rates now "going down probably to zero," Jones reckons "[Gold's] got everything going for it," not least because "after 75 years of globalization, that's suddenly stopped and reversed.
"Gold will be the antidote institutionally for people with equity portfolios."
"There will be
no winner in the trade war
, it could cause a recession in the United States and global economies," said Beijing's ministry of commerce spokesperson today.
US investment inflows to China sank in April, new figures show, while China's outbound investment
"maintained healthy growth"
according to Beijing's official news agency.
Also forecasting a break in gold prices above $1400 per ounce, analysts at Bank of America Merrill Lynch agree with Paul Tudor Jones that "Gold prices look likely to do well if the trade war escalates further...because weaker global growth should lead to another round of monetary policy stimulus.
"Also, the ongoing trade war could turn into a currency war, further boosting investor appetite for gold," BAML adds, warning that – due to the downturn in global industrial output, most notably from China – silver will continue to lag gold prices.
The
Gold/Silver Ratio today
held above 90 for a 4th session running, extending gold's strongest pricing against the gray metal since March 1993.
Elsewhere Thursday crude oil prices rallied sharply, up more than 4% from yesterday's 5-month lows, as explosions on two tankers in the Gulf of Oman were
reportedly caused by torpedo attacks
– the 2nd serious incident in a month near the Strait of Hormuz, a key shipping route for 1/5th of the world's crude oil.
A British colony until 1997, and returned to China's control under the "one country, two systems" principle, Hong Kong already has an extradition treaty
with 20 other countries
, the BBC reports.
The People's Bank of China meantime injected $14.5bn-worth of liquidity into the domestic Yuan money market, extending what it calls "
prudent monetary policy
...neither too tight nor too loose."