Gold Prices Rise 1st Week in 4 as China Demand Stays Weak, India Set for Gold Loan 'Surge'
Friday, 6/12/2020 14:19
GOLD PRICES held onto this week's solid gains in all major currencies in London trade Friday, climbing for the first week in four after New York's stock market suffered its worst plunge since the record 1-day drop of mid-March on signs a second wave of coronavirus cases is building across the United States.
European stock markets rallied, but an overnight drop in Asia kept
the MSCI World index
of global equity prices on track for a 4% weekly loss, its worst since this spring's Covid Crisis Crash.
Industrial commodities also bounced but headed for a 4% drop from last Friday's 11-week high on the S&P GSCI index.
Recovering all of last week's $45 drop, the gold price in US Dollar terms today traded unchanged from what was a new 7.5-year high when reach this point in April at $1733 per ounce.
Both Euro gold and
the UK gold price in Pounds per ounce
also headed for their first Friday-to-Friday gain in 4 today, but they only recouped half of last week's drops to trade at €1533 and £1374 respectively, down more than 5% from their new record highs of mid-May.
That kept the Dollar-equivalent price for gold landed in China at an $8 discount per ounce to London, the world's storage and trading hub, and continues to show weak domestic demand compared to supply in the metal's No.1 consumer nation.
Shanghai gold averaged a $9 premium to London over the 5 years prior to New Year 2020.
Now entering its typical summer-lull without having any Spring wedding or festival buying, India also continues to see very weak gold demand, with steep discounts to London quotes failing to entice buyers.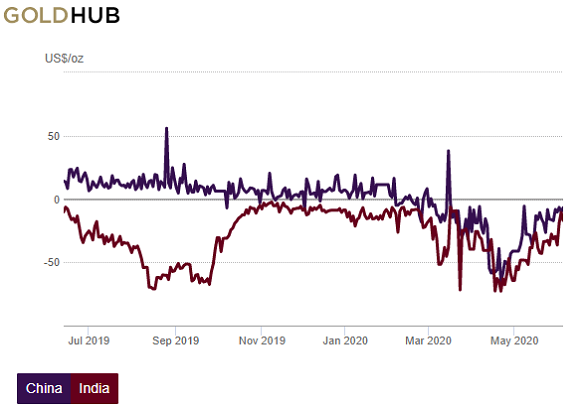 "Given the lower for longer mentality confirmed [by this week's US Fed monetary policy] meeting," says the Asian trading desk of Swiss refining and finance group MKS Pamp, "we believe gold and silver should continue to push higher in the coming sessions.
"Analysts are still quite bullish of the gold price in the long-run," adds one London bullion trader in a note, "and I absolutely agree – I just wished a healthy pull-back could have formed first."
Thursday's plunge on Wall Street saw investors buy heavily into
gold-backed ETFs
the GLD and IAU, extending their run of growth to 12 weeks.
Gold's No.2 consumer market in contrast is seeing "Indians pawn gold for loans as borrowing from banks becomes tougher," says
a headline from Reuters
, reporting that as the world's 2nd most populous nation starts to come out of lockdown "State-run banks [are] seeking lots of documents for crop loans" according to one farmer, "and furnishing them all wasn't possible quickly.
"So I decided to pawn jewellery. I got a loan from a local co-operative bank in just an hour."
With non-bank 'Nidhi' finance companies
accounting for over one third
of India's existing $45bn gold loan sector – forecast this January to grow by more than 13% per year by accounting consultants KPMG, even before the Covid Crisis struck – formal banking lenders "are
preparing for a surge
in gold loan demand," says LiveMint today.
"There was a time when people didn't want to touch gold [for raising cash]," says Anirudh Kamani, CEO at the home finance of $160bn bank ICICI, which started offering gold loans through its 70 branches yesterday.
"But times have changed. People's reluctance to pledge gold and meet their cash flow problems is slowly diminishing."
On the political front meantime, US Treasury Secretary Steve Mnuchin said overnight that the President's Working Group on Capital Markets – asked by Donald Trump to present him with possible financial sanctions against China in protest at Beijing's imposition of mainland laws on Hong Kong – may look to
block capital flows into the US
from the formerly autonomous region.
Donald Trump ally and key Brexit campaigner Nigel Farage today stood down with immediate effect from his 5-days-a-week show on London's LBC radio after calling Black Lives Matter "
a new form of Taliban
...a far-left Marxist organisation that wants to abolish the police and dismantle capitalism."
Black Lives Matters activists in London called off an event planned for Saturday,
citing fears of clashes with far-right groups
seeking to defend monuments in the capital following the toppling of 18th Century slave-trader Edward Colston's statue in Bristol last weekend.