Gold Prices Up as US Inflation Slows, Hong Kong Police Fire on Protesters, 'Unsound' Italy Back-Tracks on Safe-Deposit Tax
Wednesday, 6/12/2019 14:20
GOLD PRICES rose back towards last week's multi-months highs in London trade Wednesday as US inflation data came in weaker than analysts forecast amid a raft of geopolitical headlines.
Hong Kong police fired tear gas and rubber bullets at protesters, Saudi Arabia was hit by missiles from war-torn Yemen, Italy was rebuked by Brussels over its worsening budget deficit, and Germany issued new government debt at record-negative borrowing costs.
Accusing former US vice-president and potential 2020 presidential challenger Joe Biden meantime of having "some kind" of financial payback from Beijing, "China wants to make a deal very badly," said US President Donald Trump overnight.
"It is me right now that is holding up the deal. China ate our country alive during Obama and Biden. They ate us alive."
Instead of holding a 2.1% annual rise as expected, so-called 'core' US consumer price inflation slowed to 2.0% in May, today's figures said.
Ahead of today's data, betting on the US Federal Reserve holding interest rates at their current level at forthcoming policy meetings has collapsed
according to data
compiled by derivatives exchange the CME.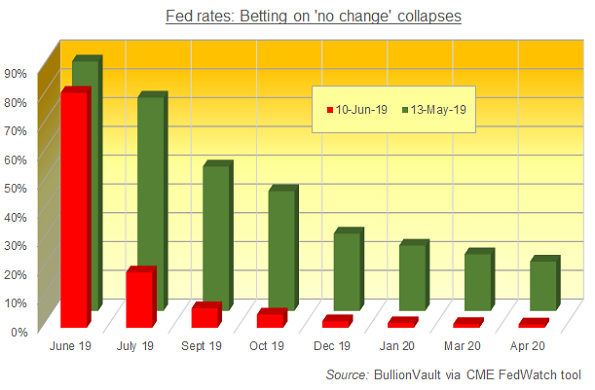 Gold priced in US Dollars rose Wednesday within $15 of last week's 14-month highs at $1348 per ounce.
The
UK gold price in Pounds per ounce
held at £1048, less than £5 shy of Friday's finish, the highest weekly close since March 2013, as former foreign secretary and pro-Brexit campaigner Boris Johnson launched his bid to succeed Theresa May as Conservative Party leader and therefore UK prime minister.
Euro gold prices meantime edged within 0.5% of last week's close of €1184, the highest Friday finish since April 2017, as Berlin issued new 10-year Bunds at record low interest rates of -0.24% per annum.
Italy's borrowing costs also slipped in the secondary market, but the spread between Italy and Germany's 10-year borrowing costs widened 3 basis points from Tuesday's 5-week low of 2.55 percentage points.
On a 12-month basis, the gold price in Euros has moved in the same direction as the BTP-Bund spread nearly two-thirds of the time since the Euro was launched in 1999.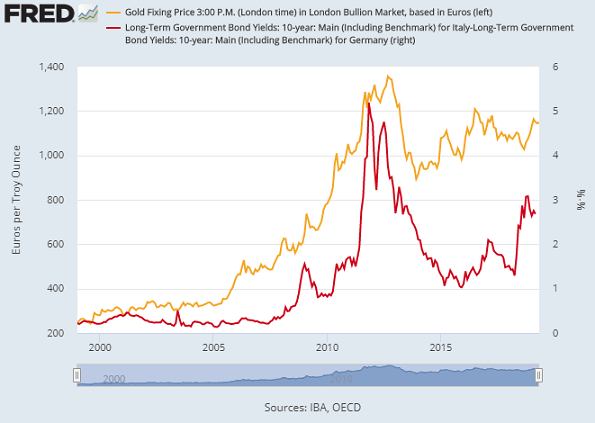 "Italy is moving in an
unsound direction
," said European Commission president Jean-Claude Juncker yesterday after a new report warned that the Eurozone's 3rd largest member will breach its "debt reduction benchmark" in both 2019 and 2020 on Rome's current spending plans.
"Italy's public debt stood at 132% of its gross domestic product in 2018," says Germany's Deutsche Welle news service, "while the Eurozone calls for member states to stay within 60%."
"The idea of issuing mini-BOTs is a way to create a double currency," reckons Marcello Messori, director of the school of European political economy at the University of Luiss.
Going further, "It is a way to
facilitate the exit of Italy
from the Eurozone," says Riccardo Puglisi, an economist at the University of Pavia.
The onset of India's monsoon season – vital in determining the size of the autumn harvest and
therefore rural incomes
in the world No.2 gold consumer nation – has meanwhile seen a violent cyclone develop in the Arabian Sea.
Cyclone Vayu may hit India's densely populated western state of Gujarat with the force of a Category 1 or 2 hurricane when it makes landfall early Thursday, according to forecasters.
Hong Kong's main stockmarket index today shed 1.7% as
police tried to disperse
tens of thousands of people protesting in what the authorities called 'rioting' against a new extradition law demanded by mainland China.
Crude oil prices sank nearly 3% after
Saudi Arabia blamed Houthi rebels
in neighboring Yemen, backed by Iran, for wounding 26 people in a missle strike on the kingdom's south-western airport of Abha.