Trump's 'Looting and Shooting' Plus China's Military Warning Sees Gold Price Flirt with 92-Month US Dollar Record
Friday, 5/29/2020 14:14
GOLD PRICE gains of 1.7% across May put the metal on track for its highest monthly close since September 2012 in US Dollar terms on Friday as US-China tensions worsened over Hong Kong and President Trump was accused of "glorifying violence" by Twitter, his own social-media channel of choice.
The
UK gold price in Pounds per ounce
meantime showed a 1.8% loss from last Friday's finish, but held on track for a new record monthly closing high just south of £1400.
Gold priced in the Euro traded at €1551 as the single currency continued its run as the strongest competitor against the Dollar, keeping bullion 1.0% below April's month-end record and nearly 5% below mid-May's fresh all-time intraday high.
With the Euro rising as energy prices sank amid the Covid-19 crisis, consumer-price inflation across the 19-nation currency union slowed to just 0.1% per year this month,
Eurostat said today
.
Already holding interest rates below zero for the last 6 years, the European Central Bank "will step up emergency asset purchases next week to rekindle growth," reckons a survey of economists by Bloomberg.
"Most respondents expects a top-up of €500 billion ($550 bn) to €1.6 trillion" in a bid to reflate the world's second-largest economic bloc as it slowly eases anti-virus lockdown restrictions.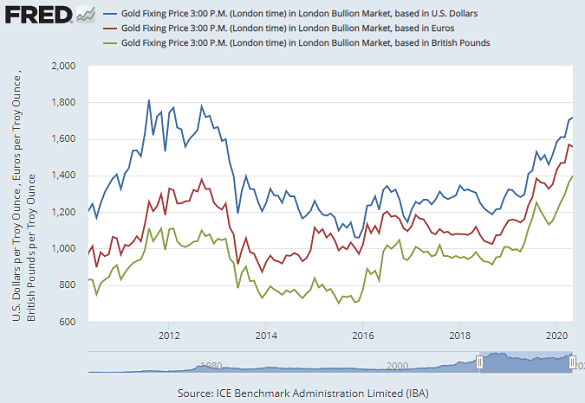 Back in the United States, "When the looting starts, the shooting starts,"
said Trump on Twitter
on Thursday, apparently calling for the US military to fire on violent protests in Minneapolis following the death of George Floyd, an unarmed black man,
when detained by police on Monday
.
Hiding the tweet for violating its rules, Twitter still allows users to view it "in the public interest". But social media shouldn't be the "arbiter of truth" said Mark Zuckerberg, founder of Twitter competitor Facebook overnight.
Zuckerberg is now dead or is a child molester according to Australia-based satire sites
The Shovel and The Chaser
, testing that stance today by posting fake stories on his site.
Pre-trading saw FB hold flat this morning while TWTR slipped 1% from Thursday's close.
Overall this month the US stock market has added 4.1% on the S&P500 index, extending its recovery from February-March's 33% plunge.
Dollar gold prices today touched $1732 per ounce, edging above the month-end close of November 2012 to near the highest finish in 92 months.
"Hong Kong is purely an internal Chinese matter," said Beijing's foreign ministry spokesman Zhao Lijian meantime Friday,
warning the UK
that "No other country has the right to interfere" after the city's former colonial owner effectively offered UK citizenship to 300,000 of Hong Kong's 7.5 million population.
Set to agree a response today to China's imposition of anti-sedition laws over the formerly 'autonomous' region of Hong Kong, "[other] European leaders are in
no mood to follow the United States
in threatening trade sanctions against China," reports the
South China Morning Post
, saying that "German Chancellor Angela Merkel has eyes on reaching an investment agreement with China later this year."
"If the possibility for peaceful reunification [with Taiwan] is lost," said China's senior military chief Li Zuocheng to the annual People's Congress today, "the people's armed forces will...resolutely smash any separatist plots or actions."
Germany's Federal Constitutional Court has meantime "abandoned the tradition that monetary policy is operated by an independent central bank committed only to the goal of price stability," says an article in Germany's
FAZ
newspaper – written by 6 economists including former government advisor
Peter Bofinger
– in siding with anti-inflationists to
challenge the legality of the Bundesbank's role in ECB bond-buying
.
This is a threat to the very constitution of the Eurozone's No.1 economy, they warn.