Yuan Down, Gold Price Up as Trump Urges US Fed to 'Match China's Money Pumping'
Wednesday, 5/15/2019 13:50
GOLD PRICES popped above $1300 per ounce for the second time this week in London trade Wednesday even as the US Dollar rose following a raft of weak data from 'trade war' opponent China.
The greenback rose to 3-month highs against the Chinese Yuan and hit 2-week highs on its
Dollar Index against a basket
of the world's other leading currencies, still 0.5% below April's two-year peak.
That saw gold prices rise faster for non-US investors as Asian stock markets closed higher but European equities fell.
Gold priced in the Euro hit 5-week highs above €1160 and the
UK gold price in Pounds per ounce
hit its best in 10 weeks at £1010 as Sterling fell below $1.29 for the first time this month.
Gold also rose to 3-month highs against the Aussie Dollar, reaching A$1877 per ounce, as Australia's key export market of China reported a sharp slowdown in retail sales and industrial production growth.
The Yuan's value in US Dollars has shown an average 5-week correlation of +0.45 against Dollar gold prices over the last 5 years, a statistically significant positive relationship.
Over the last month, however, that connection has evaporated, averaging a slightly negative correlation of -0.11 instead.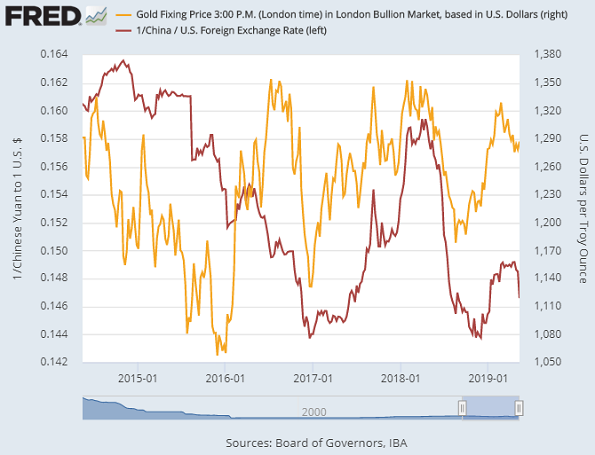 "China will be pumping money into their system and probably reducing interest rates, as always, in order to make up for the business they are, and will be, losing,"
tweeted US President Donald Trump
late Tuesday.
"If the Federal Reserve ever did a 'match', it would be game over, we win! In any event, China wants a deal!"
Calling liquidity levels in the banking system "
reasonable and ample
", the People's Bank today implemented lower reserve ratio requirements on small and medium-sized lenders, releasing some $15 billion-worth of funds into the market.
"The fast money that underpinned the move back above US$1300 looks to have taken profits," cautioned a trading note from Swiss refining and finance group MKS Pamp earlier.
"Even amid the uncertainty being generated by the trade stand-off between the US and China, the metal remains vulnerable to a down-side move back toward support around $1280-85."
Chinese gold prices had edged back in Shanghai trade overnight after hitting 12-week highs on Tuesday.
Together with the weaker Yuan, that slashed the premium paid for gold landed in China – the metal's No.1 consumer market – back below its historic average of $9 per ounce versus quotes in global trading hub London.
Tight import quotas last month saw that incentive for new shipments into China
peak at 30-month highs
above $25 per ounce.