Gold Price Pops to Weekly Gain as Trump Hits China with Sanctions, US Inflation Rises
Friday, 5/10/2019 14:08
GOLD PRICES spiked to show a 0.7% gain for the week in London trade Friday lunchtime as new data showed US inflation holding firm amid the worsening trade tariff war between the Trump White House and China.
After the latest US-China talks failed to make progress overnight, the White House today hiked tariffs on a further $200 billion-a-year of Chinese imports, up from 10% to 25% as of midnight Eastern Time.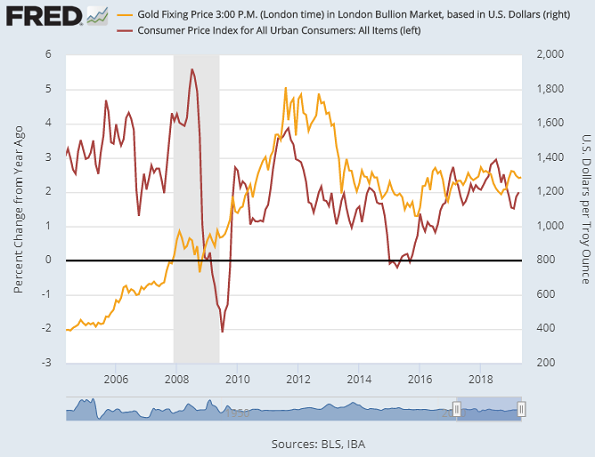 "We hope the United States will meet us halfway, and
work with us to resolve existing issues
through cooperation and consultation," said China's Ministry of Commerce, again threatening un-named "counter-measures".
Tariffs will make our Country MUCH STRONGER, not weaker. Just sit back and watch! In the meantime, China should not renegotiate deals with the U.S. at the last minute. This is not the Obama Administration, or the Administration of Sleepy Joe, who let China get away with "murder!"

— Donald J. Trump (@realDonaldTrump) May 10, 2019
New York's S&P500 closed Thursday 2.3% below last week's new all-time highs, but Asian and European stock markets edged higher Friday, while China's stock market jumped over 3% despite the new US sanctions.
"Our
monetary policy toolkit is rich
and has ample room to respond," said senior official Sun Guofeng at the People's Bank of China in Beijing, acknowledging both "internal and external changes" as the latest data show a marked slowdown in private-sector borrowing.
"Rising rents and population aging may also have driven migrants back home," says the Caixin news site.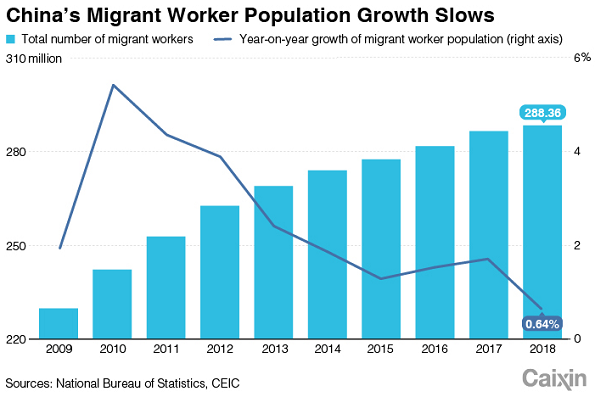 Gold prices in Shanghai rose overnight to their highest in nearly 5 weeks above ¥283 per gram as the Chinese Yuan finally stabilized at 4-month lows against the Dollar on the currency market.
The Japanese Yen in contrast edged back from this week's jump to 3-month highs against the Dollar, helping the gold price in Yen terms rally from its weakest since late January below ¥4,520 per gram.
With gold trading volumes in Japan's main Tocom contract falling over the last 5 years to just 55% of the previous two decades' annual average, Chinese-owned ICBC Standard Bank is shutting its Tokyo branch.
"Subsidizing state-owned enterprises and being more protectionist is fundamentally China's economic model," said London Business School professor
Linda Yueh
to the UK's BBC Radio 4 this morning, saying that Beijing will not cave into Trump's demands to open up its domestic economy or assets to free trade and foreign ownership.
"Instead of liberalizing socially and politically as well as economically [as] we engaged them," agreed US economics author
Greg Autry
, "[China] took advantage of the trade relationship to build a stronger, more powerful, authoritarian government that still
executes more people
than the rest of the world combined [and has]
a million Uighur Muslims locked up
in concentration camps."
Beijing today laid formal charges of taking bribes and abuse of power against Meng Hongwei, former chief of global police agency Interpol, in what his wife and many foreign observers
call a politically motivated arrest
.
Ahead of today's move by Trump, the US imposed tariffs on 47% of all Chinese imports
according to a chart
in the
New York Times
.
China in contrast charged tariffs on 91% of US goods.
"From the American perspective I don't think there is any damage at this point, and I don't foresee much," Autry went on to BBC radio Friday morning, claiming that of the United States' 25% import tariffs, only 4.5 percentage points "hits the American consumer" rather than Chinese manufacturers, while "the full 25% goes to the US Treasury" as revenue.
Silver and platinum also rallied with
gold prices
Friday, but both metals – finding much more industrial use than gold as a proportion of demand – held losses of 0.7% and 1.5% for the week respectively at $14.82 and $859 per ounce.