Gold Price Steadies as US/China Coronavirus Spat Grows whilst Gold ETFs Hit Multi-year High and Gold Silver Ratio Jumps to 1-month High
Monday, 5/04/2020 15:13
GOLD PRICES pared gains Monday lunchtime as European stocks slumped amid a rise in US-China tensions over coronavirus while gold ETFs continue to grow their holdings to multi-year highs and the gold silver ratio jumping to a 1-month high writes Atsuko Whitehouse at BullionVault.
Spot gold hovered around $1700 per ounce, after last week's 1.2% loss, the most significant since early March.
The Dollar Index – a measure of the US currency's value versus its major peers – strengthened 0.3% from a one-month low last week as European stock markets decline following the negative trend set by their Asian counterparts on Monday after a three-day hiatus and increased fears over US-China trade tensions.
President Donald Trump promised on Sunday a "conclusive" report on the Chinese origins of the coronavirus outbreak after Secretary of State Michael Pompeo said "enormous evidence" shows the novel coronavirus outbreak began in a laboratory in Wuhan, China on Sunday, but didn't provide any proof for these claims.
China has rejected claims that the virus escaped a research centre in Wuhan.
The gold-backed ETF trust funds expanded as both the SPDR Gold Trust (NYSEArca: GLD) and the iShares gold ETF (NYSEArca: IAU) saw net investor inflows last Friday to make 6 consecutive weekly gains.
The GLD increased 1.9% last week to its biggest levels in 7 years, while IAU gained 1.28% for the week to reach its highest ever holdings.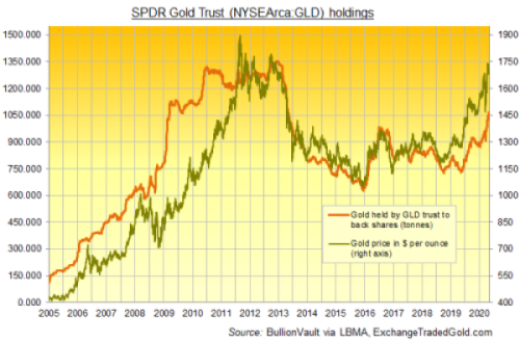 "As the scale of the pandemic – and its potential economic impact – started to emerge, investors sought safe-haven assets," stated the World Gold Council in its
Q1 commentary
, reporting Gold-backed ETFs attracted huge inflows of 298 tonnes, which pushed global holdings in these products to a new record high of 3,185 tonnes.
"I have never sold any gold that I have bought. I stopped in 2010 and restarted in 2019," said Jim Rogers, commodities investor and self-made billionaire, talking to the Financial Times
on Saturday
.
He firmly believes that inflows into gold and silver will increase as voters lose confidence in governments' money-printing experiments. He added to his personal holdings in both metals in April.
"The gold silver price ratio is near its record high and so I prefer silver to gold because it is cheaper (on a relative basis)," he continued.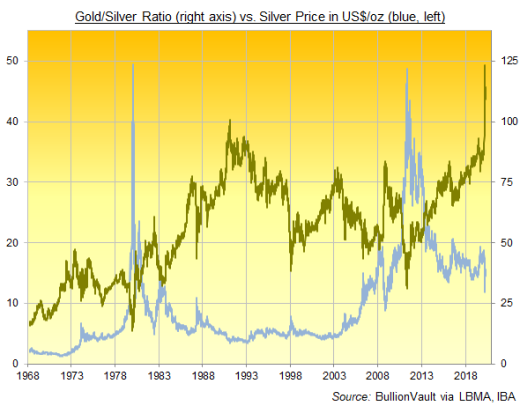 The ratio jumped to 114 this Monday lunchtime. It hit an all-time high of 123 during March when Covid-19 panic sank global stocks.
Dividing the current gold price by the
price of silver per ounce
, the Gold/Silver Ratio offers a simple measure of how the 2 metals are performing against each other.
It has averaged 58 across the last half-century, previously spiking higher during the early 1980s' and then 1990s' recessions and topping below 84 during the global financial crisis and recession of 2008-2009. 
The price of silver – which finds nearly 60% of its annual demand from industrial uses – meantime declined 1.1% to sink below $15 per ounce, after losing 1.5% last week.
In contrast, platinum which finds two-thirds of its demand from industrial uses, led by auto-catalysts, rose 0.8% to $770 per ounce, following 1.7% decline last week.
Gold prices for European investors increased 0.5% to €1555 per ounce, as PMI data confirmed confidence dropped to a record low and job cuts were the sharpest since 2009 in the Eurozone in April. 
UK gold prices pared last week's loss by rising 0.7% to £1368 per ounce with Prime Minister Boris Johnson expected to deliver an address to the nation next Sunday to unveil how Britain intends to "unlock the UK economy".
North Korean troops fired at their South Korean counterparts on Sunday in the demilitarized zone that divides the two countries for the first time in years. The move came a day after Kim Jong Un resurfaced at a fertilizer factory, ending weeks of speculation about his whereabouts.
Staying in Asia, Japanese markets are closed until Wednesday celebrating 'Golden Week' – a collection of national holidays, while Chinese markets are also closed until Tuesday for labour day.