Gold Price Drops Near 'Key USD 1300 Level' But Firm in EUR and GBP as UK Data Worsen
Tuesday, 5/01/2018 13:39
GOLD PRICES fell to 6-week lows against the Dollar but held firm against other major currencies in London trade Tuesday, extending its recent pattern into the first day of May.
With China and most European financial markets shut for May Day, gold fell 0.4% to $1308 per ounce as the Dollar rose on the currency market.
Dropping 0.8% across last month, gold ended April with its lowest monthly finish of 2018 so far in Dollar terms at $1313.20 per ounce.
Priced in British Pounds in contrast, gold ended April with its highest monthly close since December.
In Euro terms, gold set its highest monthly finish since October.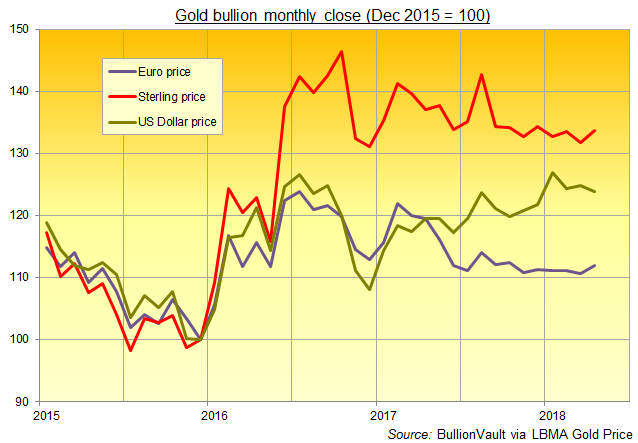 "Support-wise, we are
nearing some key technical levels
," says today's trading note from Swiss refiners MKS Pamp, "with the 200-[day moving average] at $1304 and the psychological $1300 level below that."
"I remain bearish on gold," says technical analyst Russell Browne at bullion bank Scotia Mocatta's New York office, "
targeting 1304.30
– the 200 Day MA."
Those Asian and European stock markets open on Tuesday ticked higher, with London's FTSE100 index of primarily global corporations adding 0.5% to new 3-month highs.
The British Pound in contrast fell again after worse-than-expected UK economic data, extending its drop from mid-April's near 2-year highs against the Dollar to 5.0%.
Defeated in the UK's unelected House of Lords yesterday over a key plank of her 2019 Brexit plans, Prime Minister Theresa May – forced to replace her Interior Minister on Monday in a row over immigration policy – vowed
a "robust response"
to avoid having to give the elected House of Commons a final say on Britain's deal with the European Union.
After US data on personal incomes, spending and living costs came in below analyst forecasts for March on Monday, new UK data today showed
consumers borrowing much less
that month, with a surprise fall in the number of home loans.
Manufacturing activity in the UK last month slipped to its
slowest in 17 months
according to the Markit agency's latest PMI survey.
Commodity prices slipped once more on Tuesday, with Brent crude oil again finding a floor near $74.50 per barrel, while major government bonds held little changed.
The theocratic regime in Tehran today called Israel's Prime Minister
Benjamin Netanyahu a "notorious liar"
over his claims that Iran has continued and hidden its nuclear research program despite the 2015 deal enabling the No.5 oil-producing nation to re-start exports.
US President Donald Trump must decide by May 12 whether to extend that deal or revoke it, triggering economic and political sanctions against Iran.
UK Trade Secretary Liam Fox today said he welcomes an extension of negotiations around Trump's tariffs on metals imports into the US, calling it
"a breathing space" for the UK
's small sales of aluminum and steel.