Gold Price Sets Highest Monthly Close Since 2012 as Fed, ECB Vow to Fight Pandemic Emergency
Thursday, 4/30/2020 14:27
GOLD PRICES fell back towards $1700 for the third session running in London trade Thursday, but headed for their highest US Dollar month-end since November 2012 as European stock markets fell after the 19-nation Eurozone's central bank followed the US Federal Reserve in announcing no new major stimulus or aid following the extraordinary actions already taken against the Covid Crisis crash.
Trimming the interest rate on Eurozone loans to commercial banks who lend in turn to consumers and business, the European Central Bank
today added new "pandemic emergency
longer-term refinancing operations" (PELTROs) but repeated that its Pandemic Emergency Purchase Program (PEPP) has a cap of €750bn, with new money creation for the existing Asset Purchase Program (APP) capped at €120bn.
Keeping overnight Dollar rates at zero meantime, US Fed chair Jerome Powell repeated that – instead of new QE asset purchases – the world's No.1 central bank is lending money "forcefully, proactively and aggressively" in this "extraordinarily uncertain" period.
With the S&P500 index of US stocks closing Wednesday with change from this time 12 months ago at what was then a new record high, Powell also said Congress should exercise its "great fiscal power" beyond the $2.6 trillion in emergency aid already provided.
"The time will come again, and reasonably soon, where we can think about a long-term way to get our fiscal house in order...[but] this is not the time to let that concern...get in the way of us winning this battle."
Cutting its loss from the 8-year weekend high of $1728 set last Friday to less than $10 per ounce this morning, gold priced in the Dollar then fell back to just $1702 as New York trade re-opened.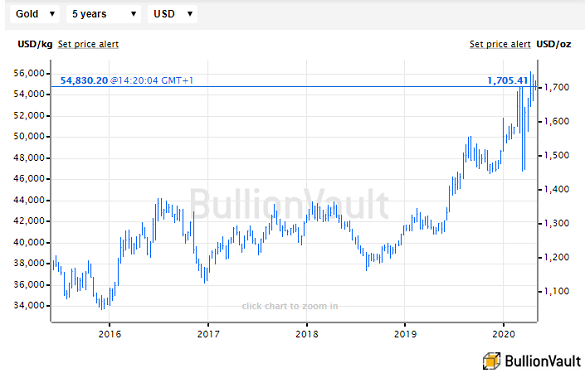 Gold priced in the Euro fell back to €1565 as European equities failed to follow Asian stock markets higher – a new record high when first reached mid-April.
The UK gold price in Pounds per ounce
also slipped to 1-week lows on Thursday, edging back 3.0% from last Friday's fresh all-time peak as data from the world's 21st most populous nation put it in 3rd place behind the US and Italy for Covid-related deaths so far.
Over in China – the most populous nation, source of the novel coronavirus, and now in 11th place for officially reported deaths from the outbreak – discounts against London quotes for gold bullion shrank to 3-week lows in Shanghai today, albeit at what would be a record at $33 per ounce if not for this month's peak discounts of $70.
China's household gold demand – typically the No.1 – fell by 60% across January to March versus the same first quarter of 2019 according to new data compiled by specialists Metals Focus for the mining industry's World Gold Council.
Beijing's officially-recognized China Gold Association puts the drop at 50%.
Japan is set to extend its Covid state of emergency for another month beyond next Thursday's current deadline according to press reports.
European crude oil today rallied to $25 per barrel of benchmark Brent, rallying nearly 30% from this month's plunge to 15-year lows.
But oil giant Shell (LON: RDSA) today cut its quarterly dividend to shareholders for the first time since WW2, reducing the payment by two-thirds – the first such move among the 5 'majors' of BP, Exxon, Total and Chevron – and also suspending its prior program of share buy-backs.