Gold Prices Set for Record Highs Says Most Bearish Forecaster as Covid-19 Smashes France GDP by 6%
Wednesday, 4/08/2020 13:43
GOLD PRICES edged back as stock markets fell hard in London trade Wednesday, cutting this week's gain so far to 1.7% at $1618 per ounce, as research out of China suggested that 1-in-3 survivors of Covid-19 may not develop antibodies to the virus, while the Eurozone's No.2 economy France reported its worst GDP drop since World War Two.
France's economic output
shrank by 6% in January to March
from the prior calendar quarter, the Banque de France estimated today – worse even than during the civil unrest and general strikes of Q2 1968.
With the government of Emmanuel Macron so far vowing €45bn in emergency stimulus ($48bn) – plus a tax-payer guarantee for €300bn of loans to French companies – "All that will have to be paid for but now is not the time to count," said BdF governor Francois Villeroy de Galhou to RTL radio today.
Gold priced in the Euro today
held 1.2% higher from last Friday's finish, but traded €30 per ounce below yesterday's near-record peak at €1548 as the EuroStoxx 600 index slipped 0.7% from this week's rally.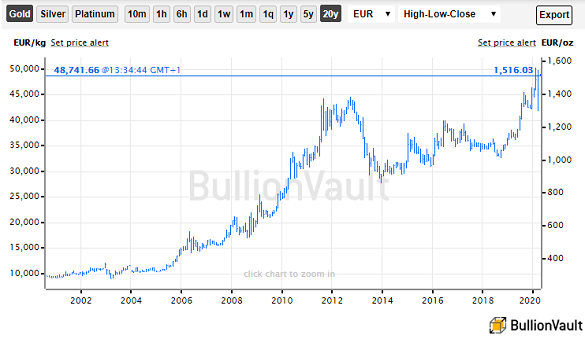 "The Covid-19 virus global pandemic is rapidly driving countries into recession and pushing states into applying massive stimulus packages," says Bernard Dahdah, precious-metals analyst at French investment and bullion bank Natixis.
"The combination of both deflation and market stress tends to make gold more attractive...[and] from the supply side, some Covid-19 mining and refining related closures or slowdown is likely to lead to spikes in price."
Both would mark a record annual average.
"[But] by any measure, gold is maintaining its centuries old role as a safe haven and store of value in troubled times."
Scientists at Fudan University in Shanghai meantime said blood samples from around 30% of 175 recovered patients they have studied show
low or even no signs of antibodies
against the novel coronavirus.
"What this will mean to herd immunity [and vaccination research] will require more data from other parts of the world," the South China Morning Post quotes Professor Huang Jinghe, leader of the Fudan study.
Despite source-city Wuhan now re-opening from its emergency lockdown, "It is way too early to declare victory against the disease even in China," said Professor Wang Chen, a senior adviser to the Beijing politburo, to state media on Monday.
US President Trump again attacked the World Health Organization for "China bias" overnight,
accusing the WHO of "calling it wrong"
in not demanding more immediate action in Wuhan when the outbreak first took hold in December.
Here in the UK, where Prime Minister Johnson remains in intensive care with Covid-19, the government's expert health advisors were
"slow to sound the alarm"
says a special report from Reuters, tracking minutes of top-level meetings where plans for more typical seasonal flu were put into action against the novel coronavirus.