Gold Price Rallies as Stocks Rise After March's Record-Breaking Coronavirus Shocks
Thursday, 4/02/2020 15:54
GOLD PRICES rallied to erase three-quarters of this week's earlier $60 drop Thursday in lunchtime, rising to $1612 per ounce as US stock markets rose despite weekly claims for jobless benefits setting their second new all-time record in a row amid the fast-worsening Coronavirus Crisis.
Already leaping to an all-time high in mid-March, the last week of the month saw the number of new claims for jobless benefits double again, surging above 6.6 million.
Ongoing claims – having previously fallen continuously since mid-2009 to reach new half-century lows in late 2019 – meantime jumped last week above 3 million, the most in almost 7 years.
US stock markets steadied after recording their worst calendar quarter since the Black Monday crash of Q4 1987.
European stock markets meantime slipped again, taking their losses for April already to 3.0% after the
EuroStoxx 600 index
lost a record 14.8% last month.
Spain today reported almost 1,000 deaths from Covid-19 over the last 24 hours, taking its world-leading total above 10,000.
Jobless claims in the Eurozone's 4th largest economy
surged by a record 302,000 people
in March, the Labor and Social Security Ministry said, putting total unemployment at 13.8%.
Commodity prices meantime rallied from their record plunge on Thursday, with US crude oil contracts bouncing over 10% from March's sudden 19-year lows,
The ratio of gold to crude oil prices ended March at a record 114 barrels of US benchmark WTI per ounce of London Good Delivery bullion.
That's more than 4 times its level at the end of the 1970s' energy crisis and global inflation.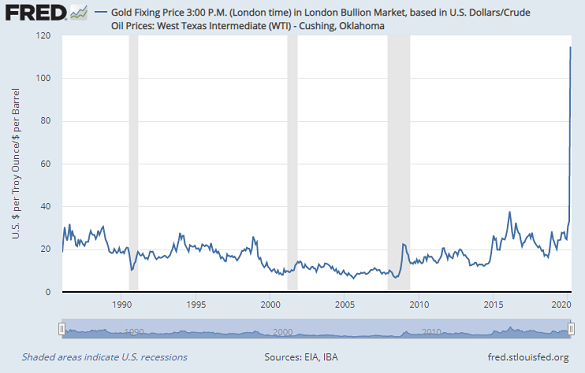 "Switzerland's major gold refineries are in talks with local authorities about restarting production next week," says Bloomberg News, quoting a spokeswoman for Valcambio, "one of the three big refineries that's been closed in the Swiss canton of Ticino."
Derivatives exchange the CME Group and trade body the LBMA are meantime "reaching out to global market participants" the pair said in a joint press release, vowing to share "information and resources, and...coordinate efforts as market circumstances evolve" after last week's
dramatic dislocation in pricing and flows
.
Bullion vaults in London – the largest gold-holding city worldwide – ended 2019 with a series record of gold in custody, the LBMA said in separate data.
CME Group's New York depositories are also "nearing a record high in terms of stock levels," last night's PR went on, and "are operating normally, as they have been deemed essential businesses."
The CME will, from Sunday, launch a new gold futures contract, offering what it calls "Enhanced Delivery" alongside the long-running Comex 100-ounce contract with settlement also allowed in 1 kilo and also London-standard 400-ounce gold bullion bars.
"Government briefings need to provide more fact, less rhetoric;
more detail, less bluster
; cut the homilies and rambles; [and] ditch the snappy one-liners," says the opposition Labour Party's former government spin-doctor Alastair Campbell.
The United States meantime said its death-count from the novel coronavirus has now passed 5,000, with President Trump – warning that federal stockpiles of protective equipment for health workers
are running low
– said the next couple of weeks will be "horrific...very painful."
"Trump's handling of the coronavirus thus far has given him popular approval and is
boosting him in the polls
," says Fox News.