Gold Price Retreats as Mogg Backs Away from 'No Deal' Brexit, Japan Central Bank Readies 'Decisive' New Easing
Tuesday, 3/26/2019 14:23
GOLD PRICES struggled to hold a rally in London trade Tuesday morning after erasing yesterday's rise to new March highs, nearing $1312 per ounce as European stock markets gained amid hopes of a breakthrough in the UK Parliament's voting on Brexit following a softening on 'no deal' by ERG chief Jacob Rees Mogg.
"Decent buying action in Asia saw the metal reach $1317 ahead of the London open," says a trading note from Swiss refiners and finance group MKS Pamp, "a new March high.
"The onshore [Shanghai] premium was around $12-13 [per ounce]" – more than one-third greater than the typical incentive for new bullion imports into China, the No.1 gold consumer nation.
Asian shares meantime rallied and Tokyo's stock market rose over 2% for the day after notes from the Bank of Japan's latest meeting confirmed that policymakers discussed whether to "ease policy decisively" in the face of "downside risks [to growth] materializing."
With the
European Central Bank
adding stimulus and the
Federal Reserve
signaling this month that it will not tighten monetary policy in 2019, Japan's key policy rate has now been held at -0.1% since the start of 2016, while quantitative easing has swollen the central bank's holdings of bonds, stocks and other assets by more than 40% to
grow larger than the annual GDP
of the world No.3 economy.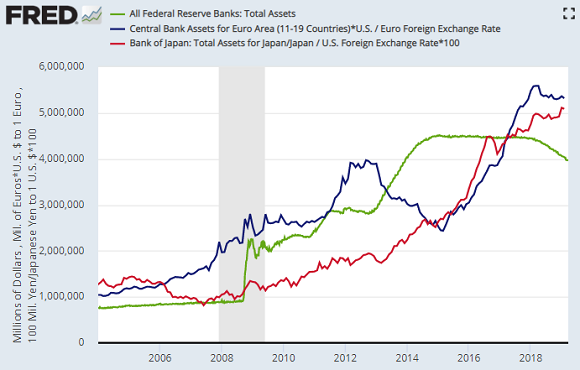 The UK's exit from the European Union will "
negatively impact the economy
" according to 58% of respondents to a New Year survey, says new data released Tuesday, up from 46% two years ago.
"Brexit has ceased to be the 'will of the people'," says pro-EU news-site
The Independent
of the British Social Attitudes Survey, in which
55% of the 2,500 voter sample
said they would now back remaining in the EU in the event of a second referendum.
Having twice voted against Theresa May's withdrawal agreement with the European Union – and with the Speaker of the House refusing to allow a third vote on the same proposal – "The Prime Minister will not deliver a No Deal Brexit," said Jacob Rees Mogg today, chairman of the 'hard Brexit' promoting European Research Group of Conservative members of Parliament.
Congratulations, Jacob. This is the straw which broke the camel's back. I won't be taking part in this fake democracy any more and I'm sure many MPs will be delighted. This country can burn to the ground for all I care.

— Gort (@MGFXXIII) March 26, 2019
Campaigning in the mid-2000s as a director of academic publishers Pickering & Chatto, anti-EU journalist and publisher William Rees Mogg admitted that "copyright can be used as censorship" but said it was essential in supporting "knowledge and ideas".
Today's ruling is aimed at "helping cutting edge research and preserving heritage"
says the EU
.
Following Mogg Junior's comments today, and with a UK Government minister agreeing that "the Brexit options are narrowing" as Parliament prepares to take 'indicative votes' on finding a way forward, Sterling hit 1-week highs on the currency market against a rising US Dollar.
Gold priced in the single Euro currency meantime fell and then bounced back towards yesterday's new March highs at €1167 per ounce after Monday's stronger-than-expected Gfk business survey in Germany was followed by weaker than forecast consumer confidence, plus a drop in France's business climate index.
New UK data meantime said mortgage approvals in the world's 5th largest national economy sank in February.