Gold Price Holds $1300 as US-China Trade 'Optimism' Sees Stock Markets Rise, UK's Brexit 'May Never Happen'
Friday, 3/15/2019 14:21
GOLD PRICES held on track for their highest weekly close in 3 as the Dollar slipped on Friday after new US data said the world's No.1 economy fell for a second month running and the UK asked the European Union to accept a Brexit delay beyond 29 March.
New York's stock market rose at the opening however, heading for 2.4% weekly gains on what Reuters called
"optimism" that the US and China
are working towards a "temporary" trade deal as the groundwork for resolving the massive tit-fot-tat import tariffs imposed late in 2018.
Despite the murder of 49 people in terrorist attacks on mosques in the New Zealand city of Christchurch, meantime, shares on the Wellington stock exchange rose 0.4% for the day, beating Australia but lagging a broader gain in Asia-Pacific equities, with China's CSI 300 index closing with a 2.4% for the week.
Gold prices traded 0.4% above last week's finish in US currency terms, holding at $1303 per ounce as the Dollar slipped 1 cent against the Euro from last Friday and lost 2.3% against the British Pound.
London-listed shares were the weakest performer among European stock markets – holding flat from this time last month while the broader has added 3.2% – as UK Prime Minister Theresa May met with politicians from Northern Ireland's DUP, again
trying to get their backing for her Brexit deal
, now set for a third vote next week after 2 resounding defeats in Parliament.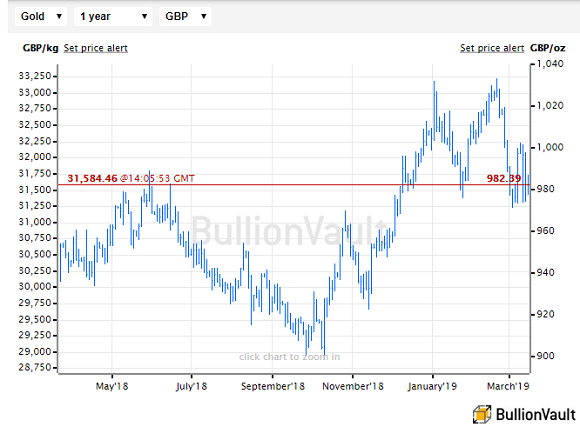 With the European Union now
considering an extension
to London's self-imposed Brexit deadline of 29 March, Vince Cable, the 77-year old leader of Britain's only anti-Brexit political party the Liberal Democrats,
today said he will stand down
but remain an MP after May's local elections.
"Brexit now looks as if it will be a protracted process,
and may never happen
," Cable tells the
Daily Mail
, claiming a victory for "the kind of campaigning that our party's done."
Police in Uganda meantime believe gold being smuggled from Latin America to east Africa's largest bullion refinery, the African Gold Reginery in Kampala,
may be coming
from sanctions-hit Venezuela, reports
The Times
in London.
Calling Uganda "a regional smuggling and trading hub,"
The Times
says "several flights from Caracas this month" have suggested
Maduro is selling bullion
from the political-protest-torn Latam state to raise funds for running his Government as self-declared interim replacement Juan Guaidó gains international recognition.
Greece today called for
a "negotiated settlement"
in Venezuela's power struggle as Prime Minister Alexis Tsipras of the left-wing Syriza Party met with Bolivia's socialist President Evo Morales.