Gold Price Unmoved, Hits 5-Week Low vs GBP as US Backs UK Over Russian Spy Attack
Thursday, 3/15/2018 14:17
GOLD PRICES were unmoved Thursday by worsening tensions between Nato and Russia over the poisoning in Britain of a former spy, holding $5 below last week's finish to trade at $1318 per ounce as world stock markets also held flat overall.
Silver also slipped, trading 1% down for the week so far at $16.43 as major Western bond prices rose, edging interest rates down.
Russian bond yields rose as Moscow debt prices slipped, pushing the gap above US Treasury yields
to the widest in a year
according to Reuters data.
France, Germany and the United States today
agreed "solidarity" with the UK
, saying there is "no plausible alternative explanation" other than that the Kremlin of Vladimir Putin – set for re-election as Russian president this weekend – ordered the "first offensive use of a nerve agent in Europe since the Second World War" when Sergei Skripal and his daughter came into contact with the deadly novichok nerve agent in the English cathedral city of Salisbury 10 days ago.
"We
hold Russia culpable
for this brazen, brazen act and despicable act," said UK Prime Minister Theresa May, visiting the scene of the poisoning.
The UK gold price in Pounds per ounce fell to a 5-week low beneath £945 as Sterling rose on the FX market, returning to yesterday's 1-month highs against the Russian Ruble and less than 2% off February's 15-month high.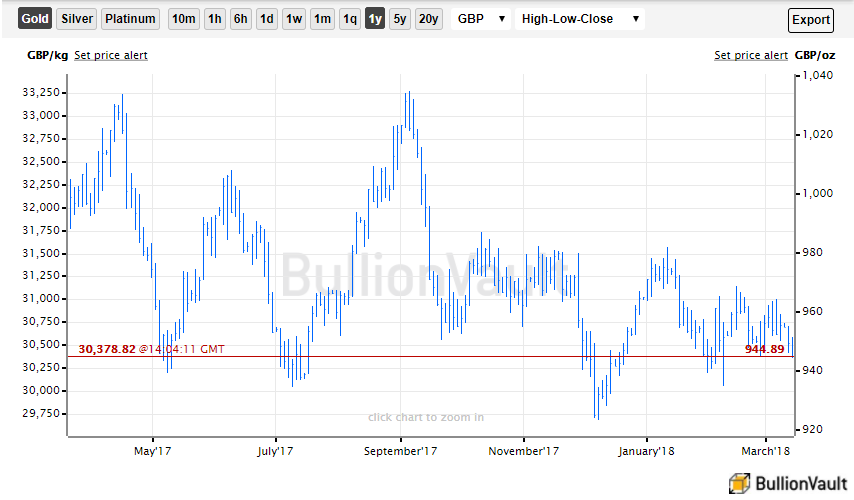 The Moscow stock market held unchanged from Wednesday's 1-month closing low, while London's FTSE100 index traded flat around 1-week lows.
Commodities held flat overall as the drop in metals offset a rise in energy prices.
Announcing the explusion of 23 Russian diplomats on Wednesday, May also said she is discusing Russia's use of energy supplies "as a means of influence" plus the "wider energy security issue" with her counterparts in the European Union, which Britain is set to leave next March.
Now the No.1 oil supplier to China, Russia is
sending less and lower-quality
crude westwards to Europe, the Platts data and news agency said last week.
UK energy regulator Ofcom says Russia's state-owned Gazprom was the No.2 supplier to Britain's largest industrial consumers last year.
The Department of Business, Energy and Industrial Strategy in contrast said Thursday that "less than 1% of our gas comes from Russia and [we] are in no way reliant on it."
New data meantime said US price inflation for both imported and exported goods slowed in February, defying analyst forecasts.
Last week's claims for jobless benefits also came in below expectations however, pointing to continued strength in the US jobs market after February's 18-month record addition to non-farm payrolls.
So-called digital asset Bitcoin rose back above $8,000 per unit on Thursday – down 60% from December's record high – after plunging more than one-tenth to 1-month lows following news that internet search giant
Google will ban all advertising for crypto currencies
and related services from June.