Gold 'Just Another Asset to Sell' in Coronavirus Crash, Price Sinks as Bond Liquidity Vanishes, Crude Oil Nears 16-Year Low
Thursday, 3/12/2020 14:55
GOLD PRICES sank lunchtime Thursday in London, falling through $1600 per ounce as world stock markets plunged over 10% amid new shutdowns to try and stem the spread of coronavirus in Asia, Europe and the Americas.
"Margin calls and de-risking [are seeing] investors shedding gold positions to pay for losses elsewhere," says one London bullion desk.
"This is quite visible in Comex gold futures...[now] losing Open Interest in the past 3 days.
"[This] highlights [how] long liquidation from short-term investors is currently driving price."
After US President Trump last night banned all inbound flights from Europe (except the UK) and the State Department warned against overseas travel, Ireland today joined Spain, Italy and Poland in shutting all schools – a policy already imposed in parts of source-country China, as well as South Korea – while the Phillippinnes said it's putting the capital Manila into lockdown.
Wall Street this morning hit another trading 'stop' after falling 7% at the open, taking the Dow Jones Industrial Average almost 15% below its level of this time last March and more than below last month's new all-time top, reached
the day before global infections from the novel virus
were revised sharply higher.
The
EuroStoxx 600 index
meantime traded 10% down for the day – and over 20% down for the week – at levels not seen since autumn 2013 as government bond prices across the 19-nation Euro currency zone whipped violently following a 'no change' decision on interest rates from the European Central Bank.
Investor demand drove the yield offered by 10-year German Bunds down to -0.77% per annum, but borrowing costs for France, Spain and most of all Greece and Italy leapt.
That sent the spread between German and Italian bond yields surging to 2.4 percentage points, the widest in 7 months.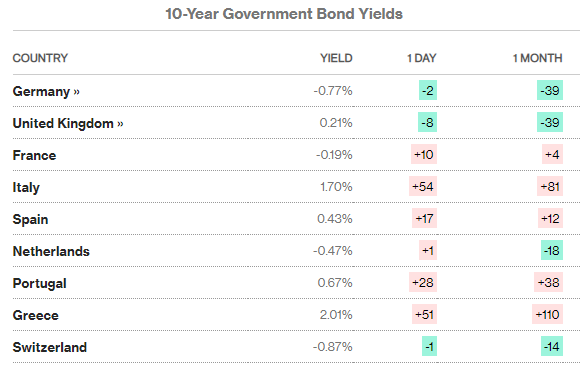 Liquidity in US Treasury bonds – meaning how well a big investor can trade without moving prices – "has plunged to levels last seen during the 2008 financial crisis," says Bloomberg, citing analysis from US banking giant J.P.Morgan.
"It could take $50-$100 billion to stabilize market conditions and result in more orderly market making," says another analyst.
Commodity prices also continued to sink Thursday amid the latest round of Covid-19 crashes, dragging crude oil down near New Year 2016's twelve-year lows of $30 per barrel, as traders and pundits saw no end in the "price war" between major producers Russia, Saudi Arabia and the United States.
"We suspect that oil prices would probably have to drop to $25 before Russia changed tack," says one analyst to the
Financial Times
.
"The Russian government is probably right to think it can sustain a low price environment," says another. "Three years would probably be achievable."
"Gold [is] another asset to sell under extreme equity market volatility," says Canadian bullion bank Scotia's strategist Nicky Shiels in a note.
"However in the longer-term, gold should wake-up to the global over-indebtedness which has clearly restrained growth and had a disinflationary impact on major sectors.
"[That debt mountain] will drive more experimental central-bank polices, resulting in dilutive currencies."
Two-thirds of
betting on where Fed rates will stand
by New Year now predict a return to 0% – the record low reached during the global financial crisis – with the other third seeing rates at 0.25%.
But erasing last week's 5.5% gain for US Dollar investors, gold prices fell Thursday to 5-week lows against the Euro as the single currency rose after the 19-nation European Central Bank announced a "comprehensive" yet not immediate package of cheap loans to commercial lenders.
Silver fell harder still, with the price of the precious metal – finding two-fifths of its end-demand from industrial uses – sinking over $3 from late-February's 5-month high to trade more than 5% lower from midnight at $15.92 per ounce.
That held
the Gold/Silver Ratio
of the yellow metal priced in terms of its cheaper cousin near Monday's level of 100, matching the record top of 1991.
Silver's fellow industrial precious-metals palladium and platinum – both used primarily in autocatalysts to cut harmful emissions from fossil-fuel engines – meantime sank to their lowest Dollar quotes in 2 and 9 months respectively.
Palladium has now fallen 28% from January's record high of $2789 per ounce.
Platinum prices
have now lost 23% from January's 3-year high, falling Thursday to $803 per ounce.
Today in India – the No.2 gold consumer nation, where the Nifty 50 stock index of major corporations sank near 3-year lows with its worst fall ever – the Customs authorities reported yet more seizures of smuggled bullion, including
5.5 kilograms of gold found on 3 bus passengers
heading for the south-eastern city of Vijayawada.
Across the Arabian Sea – a major smuggling route for gold into India – "These days I get 15 to 25 calls from potential sellers," says a gold dealer in the United Arab Emirates.
"More people are selling their gold right now" thanks to the surge in world prices, Reuters' Zawya news-site quotes the jeweller.