Gold Prices Hits 7-Year USD High, Virus Crisis 'Not a Drill' as Bond Yields Sink with Stocks and Oil
Friday, 3/06/2020 14:15
GOLD PRICES re-touched last week's 7-year high in US Dollar terms Friday, spiking to $1689 per ounce as global stock markets sank and longer-term interest rates fell to fresh record lows amid the fast-worsening outbreak of novel coronavirus.
More industrially useful silver meantime struggled at $17.40 per ounce, edging the ratio of gold prices to its cheaper cousin up to new 3-decade records above 96.
The rush into government debt saw 10-year US and UK bonds offer new buyers just 0.73% and 0.21% in annual payments, while Germany's 10-year Bund yield very nearly reached last autumn's record low of minus 0.74% per annum.
European stock markets plunged again, taking their losses from this time last month to almost 15% in London, Frankfurt, Paris and Milan.
Euro gold prices in contrast have risen more than 5%, but the metal today held €70 per ounce below last week's new record of €1560.
The UK and the Netherlands both reported their first deaths overnight from the virus, now killing 3,404 people worldwide with half of the 100,000 people infected so far now recovered according to analysis by Johns Hopkins University in Baltimore.
The US Senate yesterday approved
$8.3bn in emergency funds
, while French President Macron today urged people not to visit elderly relatives to stop exposing the most vulnerable people to Covid-19.
"This is a time for pulling out all the stops."
Lunchtime in London saw gold priced in Dollars retreat to $1670 per ounce after stronger-than-expected US jobs data February, with the rate of unemployment in the world's largest economy easing towards the lowest in half-a-century at 3.5%.
Basis the London PM benchmarking, gold at $1675 would make this week's gain the strongest Dollar rise since March 2016, putting it in the last decade's top 10.
Year-on-year, gold hasn't risen this fast – up more than 25% against the US Dollar – since January 2012.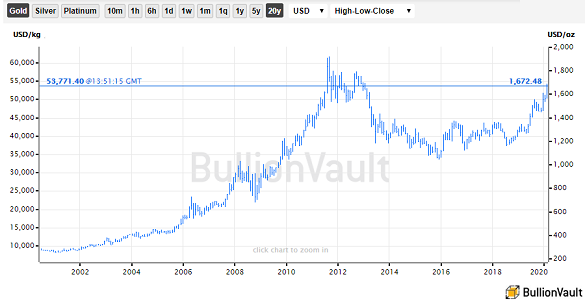 This calendar quarter will have seen global trade shrink 2.5% by volume, "equivalent to the full 2019 trade war between the US and China," reckons in 2019," economist Ludovic Subran at Europe's No.1 insurance group Allianz (Xetra: ALV), itself now 13% down from this time in February.
While the S&P500 index of US corporations has now lost 9% from a month ago, its insurance sector has also lost 13%.
Crude oil prices today fell to the lowest since summer 2017, dropping below $45 per barrel of US benchmark WTI after Russia rejected a plan for yet steeper output cuts from the Opec oil cartel.
"Ultimately a rebound in demand, not supply cuts, will be the necessary catalyst for a sustainable rebound in prices," says US investment bank Goldman Sachs in a note.
Betting that the Fed will slash another half-point off US interest rates when it meets the week after next
now stands at 2-in-3
, with just 38.5% of contracts predicting a smaller cut and zero betting on 'no change' after this
Tuesday's dramatic inter-meeting cut
, the first since the global financial meltdown of end-2008.
The UK government meantime announced
£46m of funding
to help find a vaccine, but has
"totally made up" claims
that it's working with major supermarkets to ensure home deliveries to people self-isolating, one retail executive today told the BBC.