Gold Prices Erase 2019 Gains in Yuan as China Stimulus 'Underwhelms' Markets
Tuesday, 3/05/2019 14:31
GOLD PRICES held flat against a rising US Dollar on Tuesday and rebounded from 13-week lows against the British Pound as world stock markets slipped for the 4th time in 5 sessions.
Trading at $1285 per ounce, gold prices also held around 5-week lows for Euro investors and hit the lowest Yuan price so far in 2019 as China's Premier, Li Keqiang, announced a raft of tax cuts and other stimulus while cutting the No.2 economy's official GDP growth target to 6.5%, just below 2018's near 3-decade low.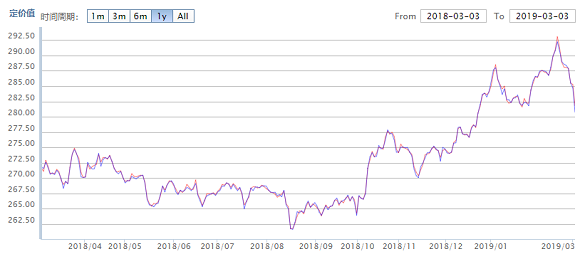 The Reserve Bank of Australia meantime kept its key interest rate on hold at a record low of 1.5%, saying that "The demand for credit by investors in the housing market
has slowed noticeably
."
But US government bond prices slipped again Tuesday, nudging longer-term interest rates higher with 5-year US yields hitting 2.55% – the highest since end January.
Looking at US yields adjusted by inflation expectations, gold prices from 1 month before have now moved in the opposite direction to real 5-year US Treasury yields in 14 of the last 15 weeks – the strongest stretch since March 2016.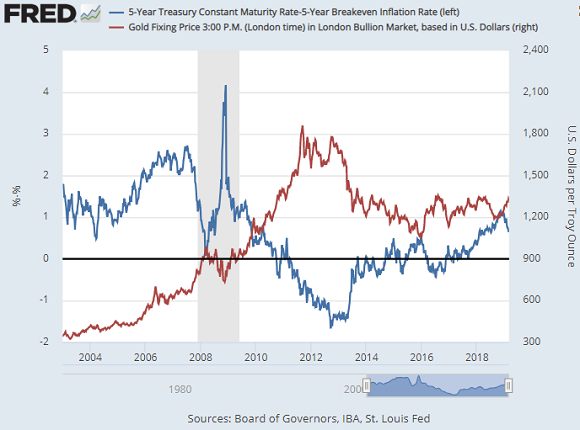 Despite falling again in Yuan terms, gold prices in China – the world's No.1 miner, importer and consumer of the metal – today held above the equivalent of $1300 per ounce.
Speaking to the 3,000 Communist Party delegates attending this week's annual National People's Congress, "A full analysis of developments inside and outside China shows that in pursuing development this year, we will face
a graver and more complicated environment
," said Premier Li.
Today's tax cuts and extra government borrowing will raise Beijing's budget deficit to 2.8% of GDP on the politburo's projections.
"Asia markets are not liking the NPC targets," said one economist on Twitter, calling the stimulus "underwhelming".
"Gold and the precious [metal] complex slumped [Monday] as risk assets rallied," says Japanese conglomerate Mitsubishi's strategist Jonathan Butler, pointing to rumors that the US and China are approaching a trade deal.
"The details of a US-China trade plan and Chinese stimulus measures may benefit industrial-facing PGMs, especially palladium," says Butler, "[and] probably keep gold on the back foot in the short term."
Palladium today hit and bounced off 1-week lows of $1503 per ounce, some 52% higher from this time last year amid a run of record-high prices a continued supply squeeze.
Sister metal platinum meantime held below $840 per ounce, down 4.5% from last week's 4-month peak.
With this Thursday's European Central Bank rates decision unlikely to bring any tightening of Eurozone monetary policy, "We anticipate the Dollar continuing to gain relative to the Euro," he concludes, "putting further pressure on USD-denominated precious metals. "
Eurozone retail sales data for January today beat analyst forecasts for a strong New Year, while business activity across the 19-nation currency union showed solid growth on the Markit PMI survey for February.
UK High Street shopping in contrast slipped last month, the British Retail Consortium said Tuesday, while the world's 5th largest economy stagnated overall, heading for just 0.1% in the first three months of 2019 according to IHS/Markit analysis.
The UK Government's most senior lawyer, the Attorney General Geoffrey Cox, is today in Brussels to ask for changes to the "Irish backstop" to try and win support for May's exit deal with the EU from pro-Brexit members of her party.
German automaker
BMW today warned
it may move production of the Mini out of Oxford, England in the event of a "no deal" Brexit, while Japan's Toyota followed the cancellation of plans to build a new car in the UK by Nissan and the closure of a UK plant at Honda by warning that future investment at its plant in Derby
could become "very difficult"
.
Warning that financial markets and banks in the European Union may a risk of destabilization from this month's Brexit, and offering to make emergency loans of Euros to UK banks if needed from 29 March, the Bank of England today said it sees a "low probability 'tail risk' [of] sharp falls in UK asset prices and a 30% depreciation in sterling, to trough at £0.91 against the US Dollar [$1.0989 on GBP/USD]."