'Big Change' for Gold Price Outlook as GLD Shrinks, Trump Attacks 'Strong Dollar' Fed, China Set for Stimulus
Monday, 3/04/2019 14:41
GOLD PRICES slipped further to the weakest levels in 6 weeks on Monday as the US and China appeared close to a deal on rolling back the trade tariffs imposed in late 2018, writes Atsuko Whitehouse at BullionVault.
The Dollar gold price fell to $1287 per ounce – its cheapest since 25 January and more than 4% below mid-February's 10-month high – as the US currency rallied and European stock markets followed Asian equities higher.
The Dollar had earlier fallen after barbed comments against the Federal Reserve from US President Donald Trump.
"We closed below $1300 [last] week, which does certainly change the short term outlook and will have resilient longs a little nervous," says Monday's Asian gold price note from Swiss refining and finance group MKS Pamp.
Friday's drop in the gold price saw heavy liquidation of the giant
gold-backed ETF
vehicle the SPDR Gold Trust (NYSEArca:GLD), with net share cancellations of 1.5% – the biggest one-day loss since February last year.
That saw the quantity of gold needed to back the GLD shrink by 11 tonnes to 771 tonnes, the smallest so far in 2019.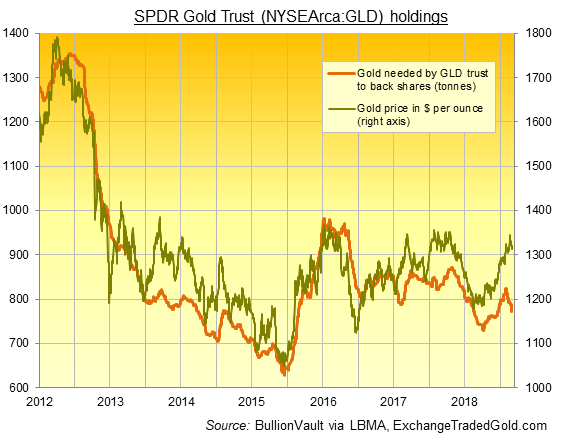 US and Chinese officials meeting in Beijing meantime "conducted fruitful and intensive consultations and made important progress on many issues of common concern," says Zhang Yesui, a spokesman for the National People's Congress.
Washington may remove most if not all of the tariffs imposed on Chinese products since last year,
according to press reports
, while Beijing is said to be thinking about lower tariffs on American farm, chemical, auto and other products.
At the next National People's Congress starting Tuesday, China is projected to announce a gross domestic product expansion target for 2019 of between 6% and 6.5%, down from last year's 6.6%.
Beijing is also said to be planning a 3% cut to its VAT sales-tax rate for manufacturers – something Morgan Stanley reckons could add 0.6 percentage points to GDP growth.
"I want a strong Dollar," said US President Trump on Saturday at a Conservative Political Action Conference, "but
I want a Dollar that does great for our country
, not a Dollar that's so strong that it makes it prohibitive for us to do business with other nations and take their business."
"We have a gentleman that loves quantitative tightening in the Fed. We have a gentleman that likes a very strong Dollar in the Fed," Trump went on, without mentioning Federal Reserve Chairman Jerome Powell by name.
Gold prices for UK investors meantime fell further on Monday from last week's drop to £971 per ounce – a 3-month low – even as Sterling slid from a 21-month high against the Euro currency amid new optimism that Britain's politicians will avert a hard Brexit on 29 March.
"There has been a misunderstanding, there have been excessive statements, but we need to move on," he said of M5s leader Luigi Di Maio's support for the anti-Macron
gilets jaunes
movement – now
seeing declining support
at its weekend rallies.
Silver prices today edged lower to $15.15 per ounce, while platinum dropped to $839 per ounce after hitting 4-month highs last week on concerns over a supply deficit on a possible strike in South Africa, a major producer of the auto catalyst metal.