Gold Prices Fall as Nuclear Powers Pakistan and India Trade Air Strikes
Wednesday, 2/27/2019 14:44
GOLD PRICES slipped against a falling US Dollar in London trade Wednesday as US President Trump again met with North Korea's dictator Kim Jong Un to discuss de-nuclearization of the Korean Peninsular, but air strikes across the border of India and Pakistan marked the "worst escalation of hostilities in decades" between the 2 nuclear powers.
"I think the entire scenario will be negative for stock markets and currencies," the specialist Platts news and data agency
quotes one oil-market analyst
, "but beyond that I don't see any immediate impact on other things."
"But it escalates geopolitical tensions around the region," says another, "so markets will be on tenterhooks."
Oil prices extended their rally from end-December's 15-month lows, while both the Mumbai and Karachi stock exchanges ended Wednesday just 0.4% lower, in line with broader world markets.
Their Rupee currencies also both slipped but held above late-2018's new all-time lows.
The Dollar meantime fell to 3-week lows against its major currency peers after Federal Reserve chief Jerome Powell told Congress in his regular testimony to lawmakers that the US central bank sees "no rush" to raise interest rates because the "solid" economy is "slowing".
With gold priced in Dollars down $4 from the weekend at $1325 per ounce, Euro gold prices today dropped to 2-week lows at €1164.
The UK gold price in Pounds per ounce
fell back to Christmas 2018 levels beneath £1000 as Sterling extended its rally on the FX market amid fresh talk of delaying Brexit if not Parliament blocking a 'no deal' exit on 29 March or even a second referendum after the
51.9% to 48.1% result
of June 2016.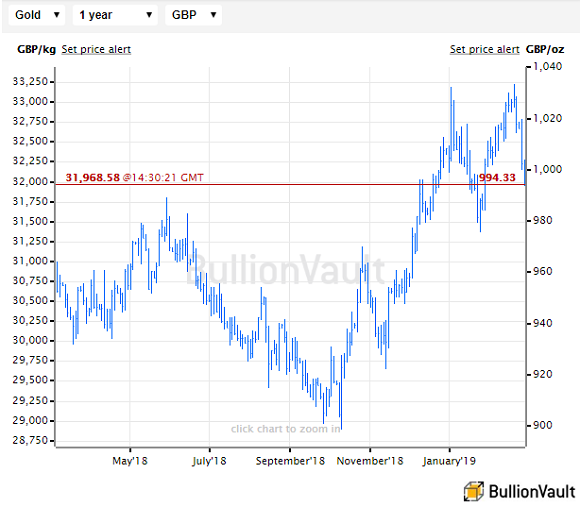 Claiming to have killed "hundreds" in air strikes on a terrorist camp deep inside Pakistan on Tuesday, New Delhi today said its security forced
killed 2 more terrorists
overnight from Jaish-e-Mohammed, the group it says Pakistan is supporting, this time inside India's disputed Kashmir border region.
Pakistan meantime said it carried out
6 air raids inside Kashmir
overnight, retaliation for Tuesday's raids – which Karachi previously denied took place.
New Delhi then said one of its MiG21 pilots
is missing in action
, apparently confirming Pakistan's claims it shot down and captured Indian jets again crossing the 'Line of Control' border today.
"Our action was only intended to convey that if you can come into our country we can do the same," said Pakistan's Prime Minister Imran Khan today.
Ahead of the Lok Sabha elections scheduled to start in April, "Indians
took to the streets in celebration
" after Tuesday's air strikes inside Pakistan, says Reuters, while a new poll conducted across 29 states by Axis My India says voters "overwhelmingly believe Prime Minister Narendra
Modi is the most capable leader
to deal with terrorism" following mid-February's murder of 44 servicemen in the Pulwama attack sparking this surge in tensions.
"Congress [Party] president Rahul Gandhi trailed far behind."
Less than a month ago Modi's approval rating
hit a new record low
for his 5-year premiership, with Gandhi "closing in [thanks to] discontent over lack of jobs for young people and a weak farm economy."
Farmers and middle-income families were this month promised a raft of "giveaways" in the 2019 budget from Modi's BJP Government – "
good for increasing [gold] jewelry demand
" according to industry specialists.
The city airport of Coimbatore "is being increasingly used to smuggle gold into the country from abroad, especially the Gulf and Sri Lanka," says today's
Times of India
.
One airplane passenger in Kolkata was yesterday caught with 2 gold bars weighing over 320 grams (10 Troy ounces) hidden beneath his hairpiece.